Navratri Colors 2016: 9 Colors of Navratri to wear this year During Navratri!
Navratri is just around the corner. The auspicious festival will start from October 1st and will be celebrated for 9 days and nights. On this day, devotees worship Goddess Durga. The Navratri festival comes twice a year one is called as Chaitra Navratri and the other one is known as Sharad Navratri. Devotees worship Goddess Durga, Goddess Saraswati and Goddess Lakmi. Durga Puja and Navratri festival is celebrated by  worshiping Goddess Durga and her 9 different avatars. The nine day festival Navratri 2016 will soon begin from October 1 and will last till October 11.
Navratri word is derived from 'Nav' means nine and 'Ratri' means night in Sanskrit, hence 'Navratri' means nine nights of celebration, during which nine forms of goddesses are worshiped. On this auspicious festival devotees worship nine Devi's and also fast for all the nine days. Navratri Puja starts with Shailputri Maa and Goddess of Navadurga. The festival ends on a good note with Siddhidatri Mata's puja. According to some popular legends, devotees believe that Lord Shiva granted permission to his wife Goddess Durga for seeing her mother for just nine days. During that time, Goddess Durga demolished demon Mahishasura. Hence Goddess Durga aka Kali is represented as a symbol of shakti – the ultimate strength. It is also said that Maa Durga has eternal divine power, which can never be created nor destroyed.
Navratri festival is celebrated with lot of zeal and enthusiasm. Navrati is not just about playing Dandiya and Garba Raas but it's also about the excitement of wearing those nine bright colors which are to be worn to worship Goddess Durga. Here we have noted down the list of nine different colors which people are supposed to wear during the nine days of festivity and celebrate the auspicious days. Have a look at various 9 different shades of colors and even know their importance. Happy Navratri 2016 to everyone out there! Celebrate the festival and spread happiness, hope the Goddess showers her divine blessings and fulfills your wishes.
The nine Navratri colors for 2016 are:
Pratipada – October 1, 2016 (Saturday) – Grey
Pratipada – October 2, 2016 (Sunday) – Orange
Dwitiya – October 3, 2016 (Monday) – White
Tritiya – October 4, 2016 (Tuesday) – Red
Chaturthi – October 5, 2016 (Wednesday) – Blue (Navy Blue)
Panchami – October 6, 2016 (Thursday) – Yellow
Sashti – October 7, 2016 (Friday) – Green
Saptami – October 8, 2016 (Saturday) – Peacock Green
Ashtami – October 9, 2016 (Sunday) – Purple
Navami – October 10, 2016 (Monday) – Sky Blue
Dasami – October 11, 2015 (Tuesday) – Pink
1. First and Second Day – Ghatasthapana / Pratipada (1st and 2nd October, 2016) – Grey and Orange: Goddess Shailaputri Maa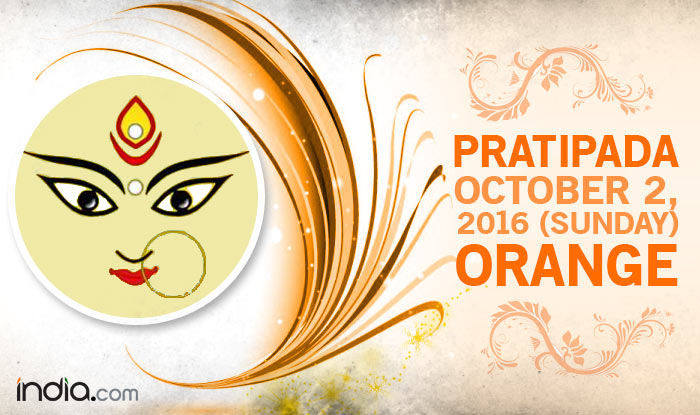 Devotees worship Shailaputri Maa, on the first day of Navratri. 'Shail' means mountains and 'Putri' means daughter. Shailaputri Maa is also known as Parvati or Hemavatithe, is the first form of Goddess Durga. The idol of Goddess is dressed in a bright Grey saree on the first day and Orange saree on the second day. And even females are suppose to dress in grey and orange attire. While the Ghatasthapana setup of earthen pot is being done on this day. Shailaputri is believed to be the rebirth of Sati, the daughter of Daksha and the wife of Lord Shiva. While, in her second birth she takes birth as Goddess Parvati, who is the daughter of Himalaya and later on she became the consort of Shiva.
2. Second Day – Dwitiya (3rd October, 2016) – White : Goddess Bharmacharini Maa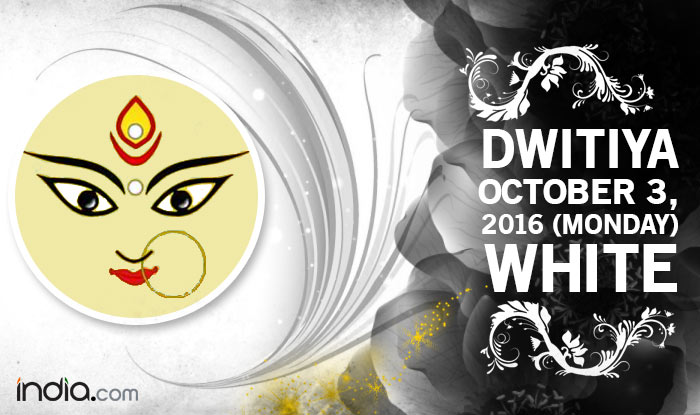 Bharmacharini is the second form of Goddess who is worshiped on the second day of Navratri. On this day, devotees offer sugar to the Goddess and there is a mythological story which says that this goddess enlightens elegant forms with power, divine and spiritual grace. The color of the day for devotees to wear on this auspicious day is White. Brahma means 'one who constantly meditates on the Supreme Being'. This form of Goddess is highly pious and is a peaceful form in meditation.
3. Third Day – Tritiya (4th October, 2016) – Red:  Goddess Chandraghanta Maa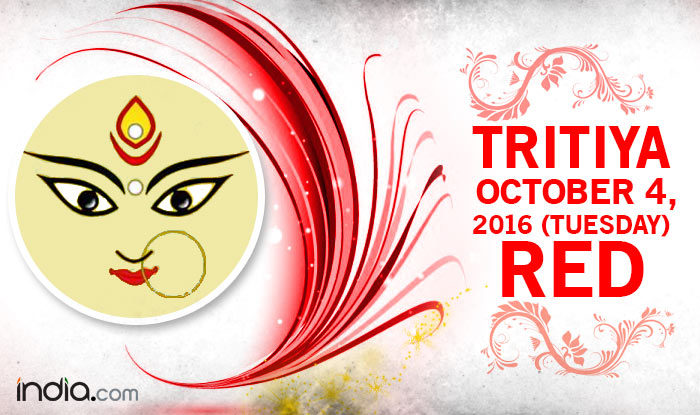 On the third day, devotees worship goddess Chandraghanta, who symbolises peace, serenity, beauty and bravery in one's life. The Goddess is dressed in Red attire.  White is the color of the day and even Sindhoor Tritiya Sowbhagya Teej is also observed on this day. Goddess name comes from the crescent moon worn by her on the head.
4. Fourth Day – Chaturthi (5th October, 2016) – Blue: Goddess Kushmanda Maa
Goddess Kushmanda is the fourth form of goddess worshipped on the fourth day of Navratri. The name 'Kushmanda' consists of three words 'Ku' means 'a little', 'Usma' means 'energy' and 'Anda' means 'the cosmic egg or universe.' She is also known as Ashtabhuja. She is considered as the creator of the entire universe. The goddess is draped in Red saree and on this day Bhouma Chaturthi is followed. The colour for the fourth day to be worn is Blue.
5. Fifth Day – Panchami (6th October, 2016) – Yellow: Goddess Skandamata Maa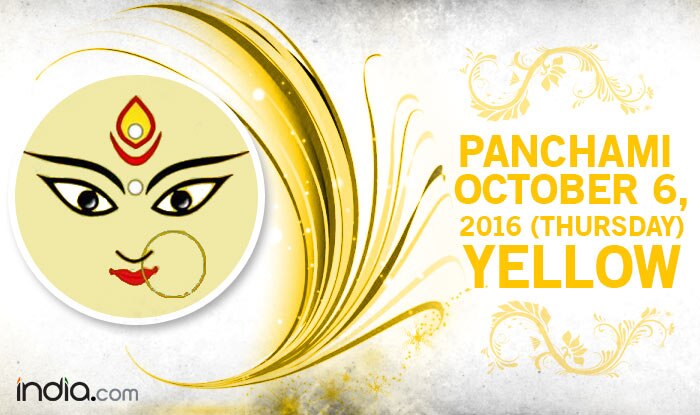 Goddess Skandamata is the fourth avatar of Maa Durga who is worshipped on the fifth day. Goddess who is has been known for demolishing the demons. Upang Lalitha Gauri Vrata is observed on this day. On the fifth day of Navratri that is known as Panchami, devotees are supposed to wear Grey as the goddess is dressed in a Yellow saree. Skanda Mata is the mother of Kartik.
6. Sixth Day – Shashti (7th October, 2016) – Green: Goddess Katyayani Maa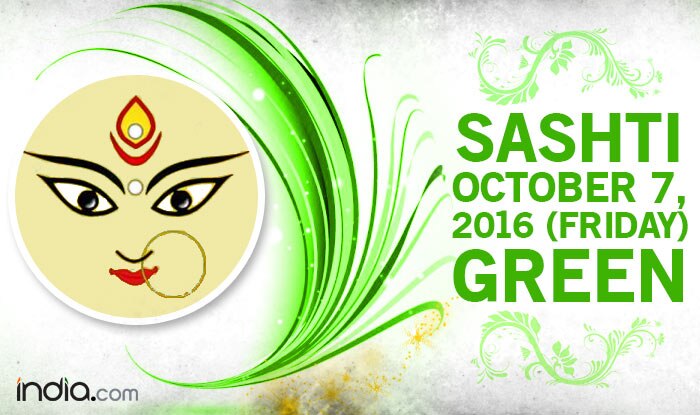 Goddess Katyayani is the sixth form of Goddess Durga, who is worshiped on the sixth day of Navratri. She is dressed in Green saree on the sixth day of Navratri and Maha Shashti is celebrated. People are supposed to wear Green attire on this day. It is believed that Goddess is the daughter of Sage Katya of Katya clan.
7. Seventh Day – Saptami – (8th October, 2016) – Peacock Green: Goddess Kaalratri Maa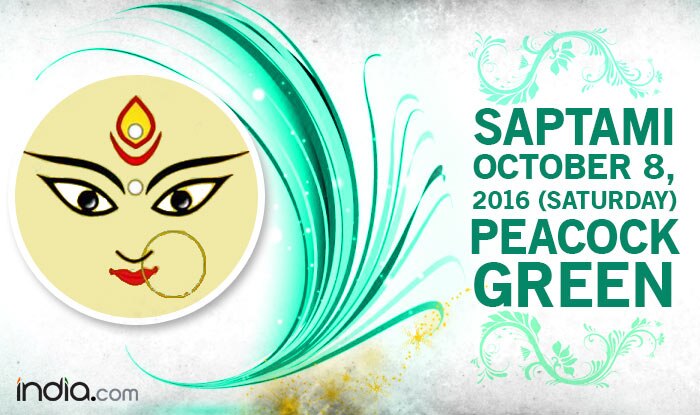 Goddess Kaalratri  the seventh figure of Goddess Durga who is known to protect all her devotees from trouble and negative powers. The goddess on this day is supposed to be adorned with a Peacock Green colored saree. The color of the day is Peacock Green. It is the beginning of Maha Saptami wherein Utsava Puja is performed. It is believed that this Goddess grants her devotees with freedom and happiness.
8. Eighth Day – Ashtami (9th October, 2016) – Purple: Goddess Maha Gauri Maa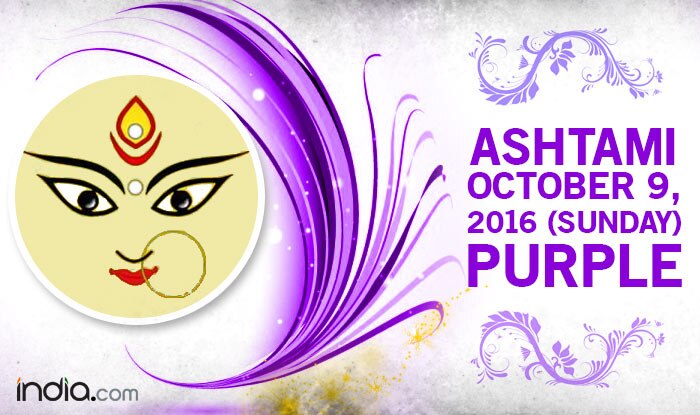 Goddess Maha Gauri is the eighth avatar of Goddess Durga who is worshiped on this day. She is regarded for forgiving the sins of her devotees and also helping them to get purified. The goddess is dressed in Purple color on Durga Ashtami. It is said that in this form the Goddess did penance to get Lord Shiva as her husband. It is believed that due to the intense Tapaya, she performed without moving which caused soil and dust to collect on her body. Later on, Lord Shiva cleaned her with water from Ganga. Purity is depicted in this form of Durga. On this day, Saraswati Mata Puja is conducted and Purple is regarded as the colour of the day for all the devotees.
9. Ninth Day/ Tenth Day – Navami / Dashmi / Dussehra (10th and 11th October, 2016) – Sky Blue and Pink: Goddess Siddhidatri Maa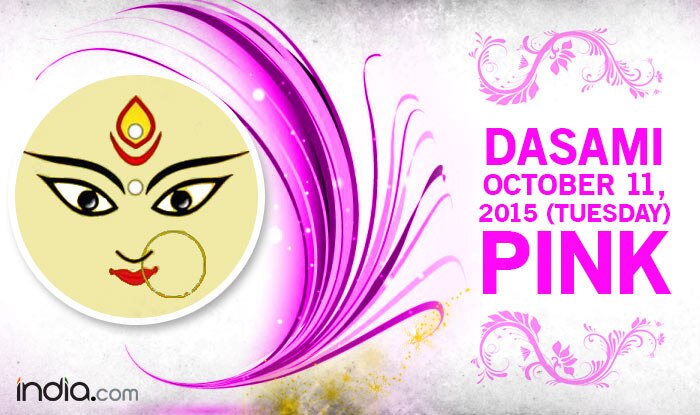 Goddess Siddhidatri is the last form of Maa Durga who is known to have great supernatural powers. It is said that this Goddess is the god who provides knowledge to her devotees.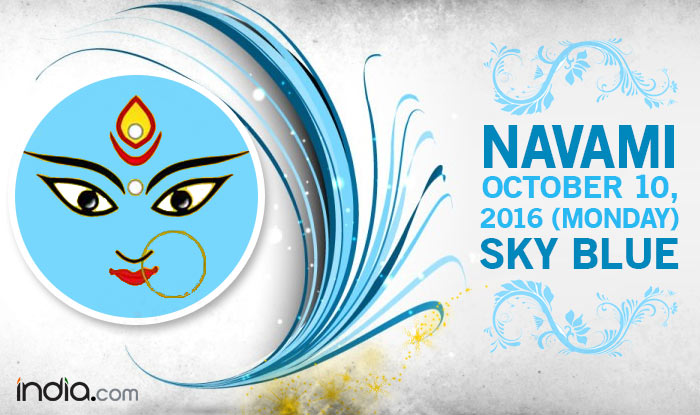 The goddess is dressed in Purple attire and Maha Navami puja is done on this day. Kanya puja is also done on this auspicious day. Sky Blue is the colour for the last day.
Happy Navratri 2016!