Live music at Thaipusam after 42 years – The Straits Times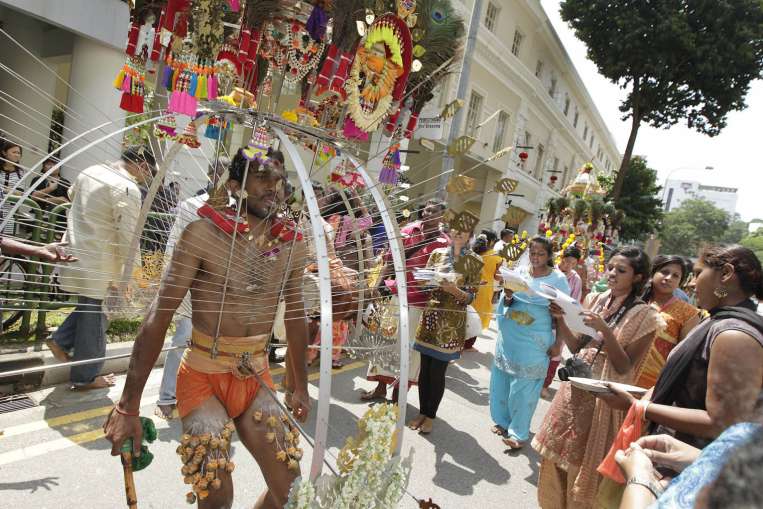 More people on the ground this year
Live music will be played from three stages in Hastings Road, Short Street and Dhoby Ghaut Green at this year's Thaipusam, the first time in 42 years that live music has been allowed for the procession.
About eight groups of "urumi melam", or Indian drum players, will take the stage at these locations during the 3km religious procession on Sunday, the Hindu Endowments Board (HEB) told The Straits Times.
The locations, identified by the police, are at least 100m away from residential areas.
Tips for participants

• The Hindu Endowments Board said it encourages participants to join the procession during the off-peak hours between 3am and 11am on Sunday.• The board has requested that kavadi bearers move through the music transmission points and live music stations at a steady pace as delays may hold up the procession and inconvenience others.

• Resting bays will be set up throughout the procession, while a dedicated lane for children, women and elderly devotees will be introduced in Clemenceau Avenue. Water and medical points will also be set up along the route.
Another 12 musicians have also been hired to play the "nadhaswaram", a type of clarinet, and a barrel-shaped drum called the "thavil" at these stages. Music will also be broadcast at seven other locations, said HEB chairman R. Jayachandran, adding that "there won't be a stretch that is without music".
The annual Hindu festival, which usually takes place over about 24 hours, is celebrated in honour of Lord Murugan, who represents virtue, youth and power.
Devotees seek blessings and fulfil their vows by carrying milk pots as offerings. Many also carry kavadis – structures of steel and wood – and pierce their bodies with steel rods, among other things.
Said Mr Jayachandran: "The kavadi bearers pierce their bodies, causing enormous pain, as part of the vows they have taken. The music will be useful in reducing the pain and enhancing their spiritual focus throughout their journey."
The procession – organised by HEB, a statutory body, the Sri Thendayuthapani Temple and the Sri Srinivasa Perumal Temple – is expected to draw more than 250 kavadi bearers as participation fees have been halved from $150 to $75 this year.
A total of 10,000 devotees are expected to carry milk pots, and another 30,000 members of the public are expected to throng the streets. This does not include the migrant worker crowds usually seen in Little India on Sundays.
For 42 years, going back to 1973, the playing of musical instruments on the streets during Thaipusam was banned due to past fights between competing groups, which disrupted the procession.
During Thaipusam in February last year, three men were arrested for disorderly behaviour after another group was told to stop the use of traditional drums by organisers.
The rule was relaxed late last year after HEB conducted 10 feedback sessions with 116 members of the Hindu community. All said music was integral to the festival, with 65 per cent wanting traditional Indian instruments to be part of it. Some people also suggested that live music be allowed at strategic locations along the route.
The Thaipusam procession is one of three Hindu festivals exempted from a ban on religious foot processions, introduced in the wake of race riots here in 1964. The other two are the Panguni Uthiram and Thimiti (fire-walking) festivals.
Said Mr Jayachandran: "The pressure is on to ensure everything goes smoothly without any violations, so rules can be relaxed further, instead of tightened for Thaipusam 2017."
HEB has ramped up efforts to ensure the $250,000 event, which has taken nine months to put together, goes smoothly. For instance, it is deploying 800 personnel – double that of last year – to ensure the event runs smoothly. Also, more experienced volunteers will be dispatched to regulate high traffic areas.
The board has also set up a website, www.thaipusam.sg and a kit for participants to familiarise themselves with the process.
Mr S. Prethev Raj , 42, a commercial manager who has participated as a kavadi bearer for the past 13 years, described this year's procession as "a new beginning".
He said: "The beauty of the entire procession is in the music. The relaxation in rules could motivate more youth to pick up traditional instruments, and eliminate Western instruments such as bongos, which have made an appearance in previous festivals."
Live music at Thaipusam after 42 years, Singapore News & Top Stories – The Straits Times.
Source: Live music at Thaipusam after 42 years – The Straits Times