Devi Shakti: How the Kumbh Mela Taught Me to Invoke the Power within Me
When I'm not writing stories for the good people at Vagabomb, I'm often out shooting. Not the pheasant or criminal sort of shooting (though I'd probably enjoy the latter), but the "has the makeup artist arrived?" variety. It's not challenging as such, but it does require a great degree of patience, especially when the hair person forgets you too are a person, and your scalp a living thing. It takes some imagination too, because how else do you hang on to your dignity when sheathed in, say, a lime green sequin covered spandex dress, and twisted mercilessly into a position you didn't know your limbs could actually create? Lastly, to create; through a combination of good fortune, talent, timing and teamwork, something lasting, it often takes stepping completely out of your comfort zone.
With this in mind, I say yes, when owner of a Mumbai-based store, Parvati Villa, Ileshaa Khatau, calls and asks if I will accompany her to the Kumbh Mela in Ujjain, Madhya Pradesh. Ileshaa and I have never met. I like her voice, and her attitude on the phone. And I absolutely love the things she makes. Ileshaa crafts brass and gold into bracelets, necklaces, earrings, and whatnot, that say, very simply, words like 'shakti,' 'devi,' 'yogini,' and 'shanti' in the Devanagari script. Her delicate jewelry is already, only two years into her venture, wildly popular among urban women with voices. What's not to love? My mum wears it.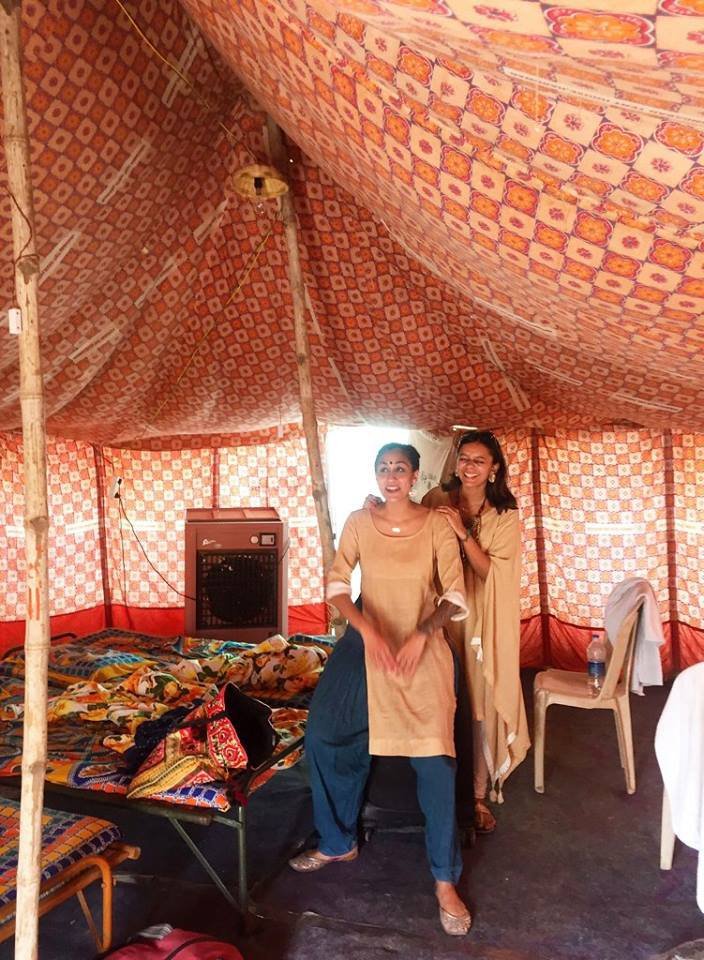 We fly to Indore with photographer and friend, Ishaan Nair, and hop into a sweaty cab that takes us to Ujjain, after which we are informed there's no way a car can enter the grounds. The grounds are 90 percent of the city. We find an info booth manned by shockingly with-it Indore University students who ask if we have the Kumbh Mela helpline or app. We don't, and Vodafone simply does not exist (seriously, how is this still a legitimate phone company?). So we finally hop into an auto with two guys, who claim they know every alley in Ujjain. Turns out they do! We're five bags and five people in an auto, with an aux cable. It's riveting. After a certain point even our knights in shining velvet say, "Now you walk." So we walk. We pick up our bags (Ileshaa's trolley's about to take a beating), and march with the stream of human traffic towards the ghats to find our camp and tent.
On day two we are finally comfortable enough with the tent-life to go out and shoot. I am draped in a flowing white linen kaftan, my hair coiled up Shiva-style, and wrapped with a generous amount of rudraksh beads. My face is painted golden. My lips, forehead, and eyes are gold dust. I am David Bowie and George Harrison, all rolled in one. Around my neck are put two huge gold necklaces spelling out the words 'devi' and 'shakti.' I decide to go barefoot – the storm the night before has turned the ground to absolute sludge. I'm nervous, and I tell Ishaan and Ileshaa so. They agree that at the first sign of any Hindutva-style hostility towards me, we'll turn and make a beeline back to the tents.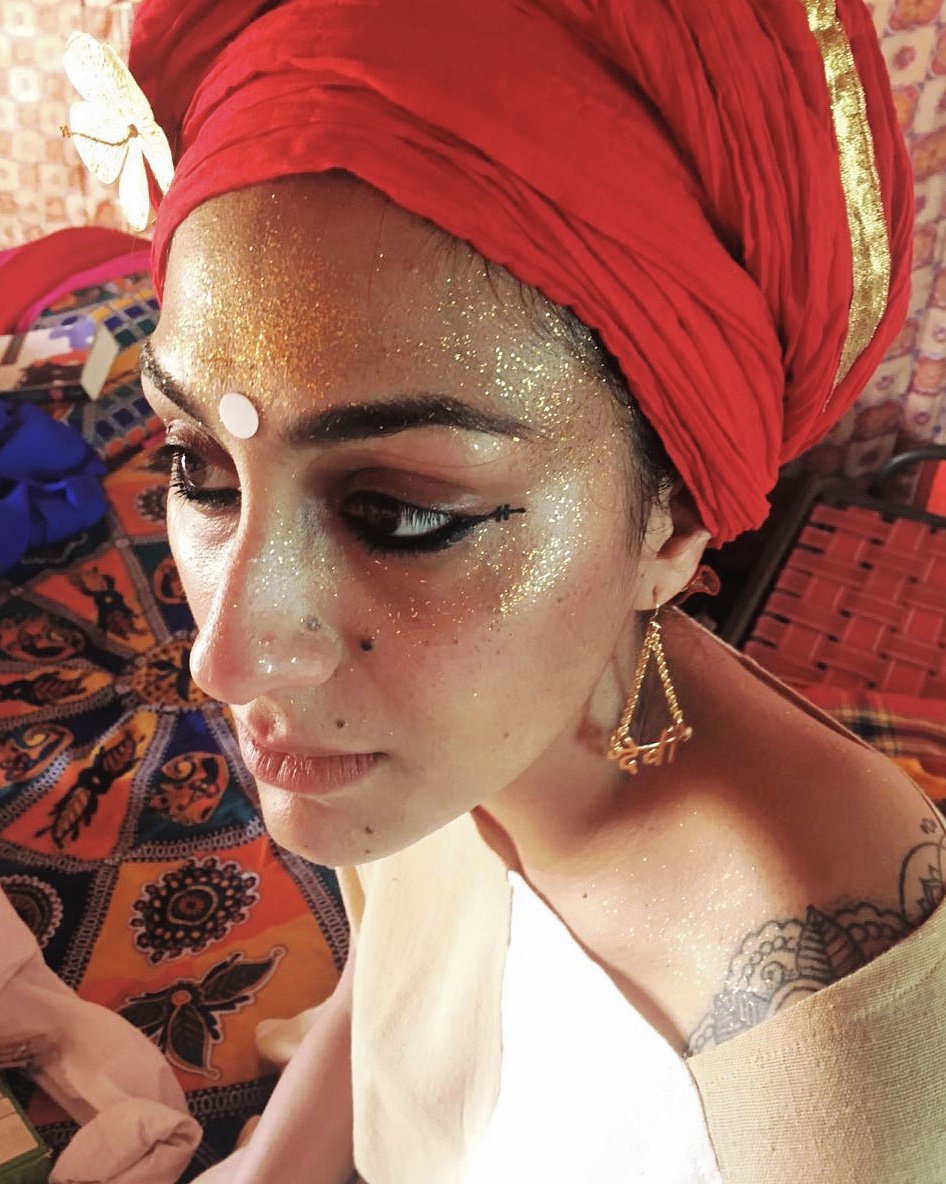 The ghats are crowded, as people line up in the thousands for their holy evening dip. I am attracting an uncomfortable amount of attention, and try to make as little eye contact with people as possible. All of a sudden an elderly man with a completely glazed look on his face makes a beeline towards me. It's happening too fast for me to cry out, and then the man is upon me. And before I know it he has bowed down, and is touching my feet. "Om Namo Narayana," he mutters feverishly, and then disappears into the throng. More people come up, asking for blessings. I am now caught in an unfortunate place. I look at Ishaan, he says, "Just go with it," and I do because the alternative, I suspect, is a mob lynching. I don't say a word. I just walk barefoot through the mud, and nod sagely at people. Some ask Ishaan, "devi mata ka ashram kahan hai?" and he innovatively tells them I have an ashram abroad. Some point and say, "the Golden Sadhu has arrived," others simply say "Ram bhakt!" or "Jai Shri Krishna!" All of them read the words around my neck and mutter, eyes down, backs bowed, "Devi Shakti, Devi Shakti." It becomes a slow chant around us. And truly, I think no woman in a crowd of 10 million people (and at least 400 visibly exposed penises) in India has ever felt this safe, or this powerful.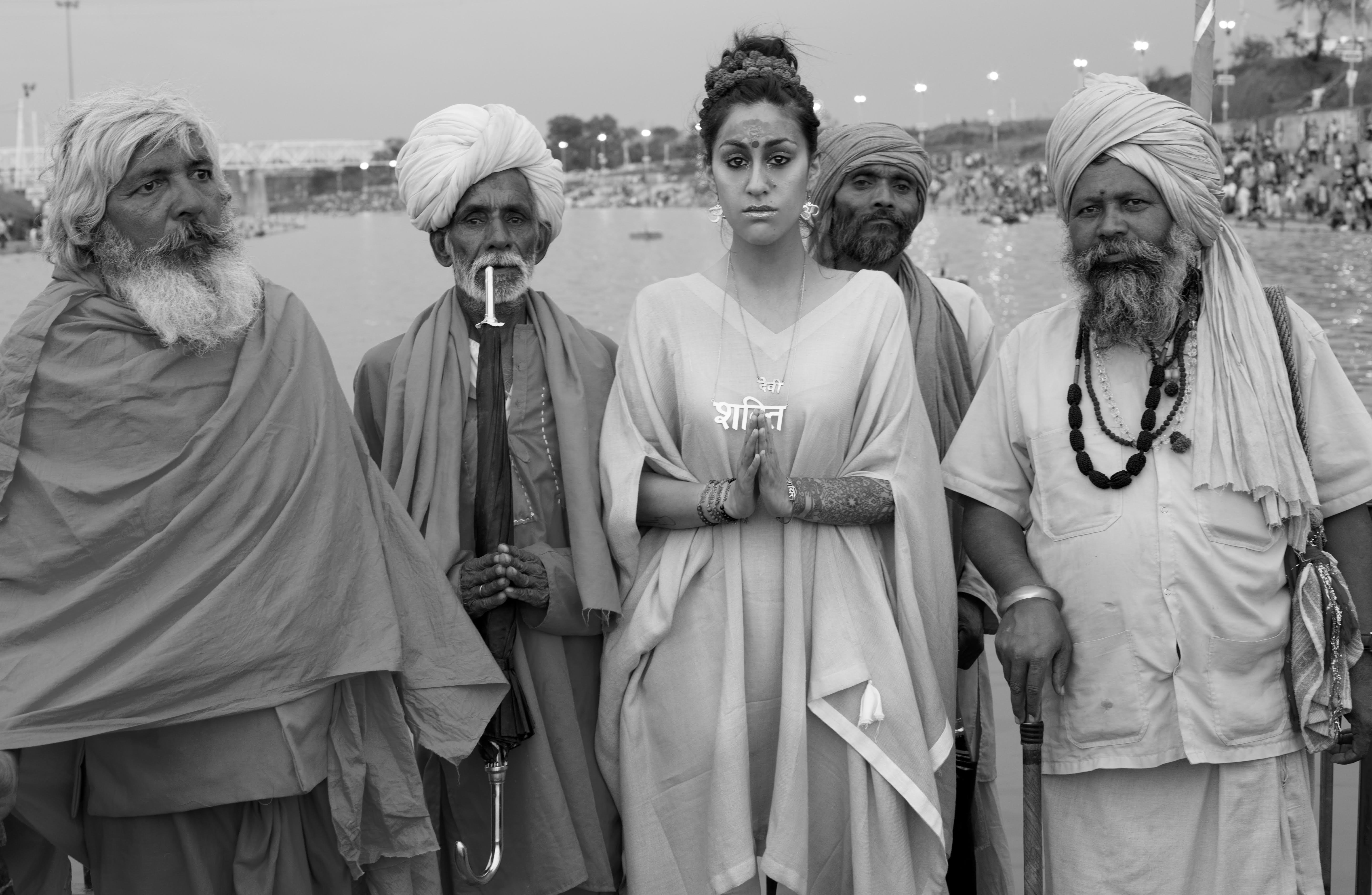 I could laugh, and put the incident down to this nation's inane religious fervor, but something about it gnawed at me. Back to the city, I was reading Sheryl Sandberg's glorious feminist manifesto, Lean In, when a line jumped out at me. Quoting Alice Walker, she said, "The most common way people give up their power is by thinking they don't have any." I went back in my head to a little experiment I'd read about, where water in bottles labeled with different words responded differently over time. Could it be that by simply 'labeling' me with the words 'Devi Shakti,' Ileshaa had caused some sort of massive eruption of feminine power and energy? I'm not certain, but I figure it's worth a try. Maybe we begin by saying it to ourselves in the mirror every morning: "You are the power." Hell, maybe we tattoo it if need be.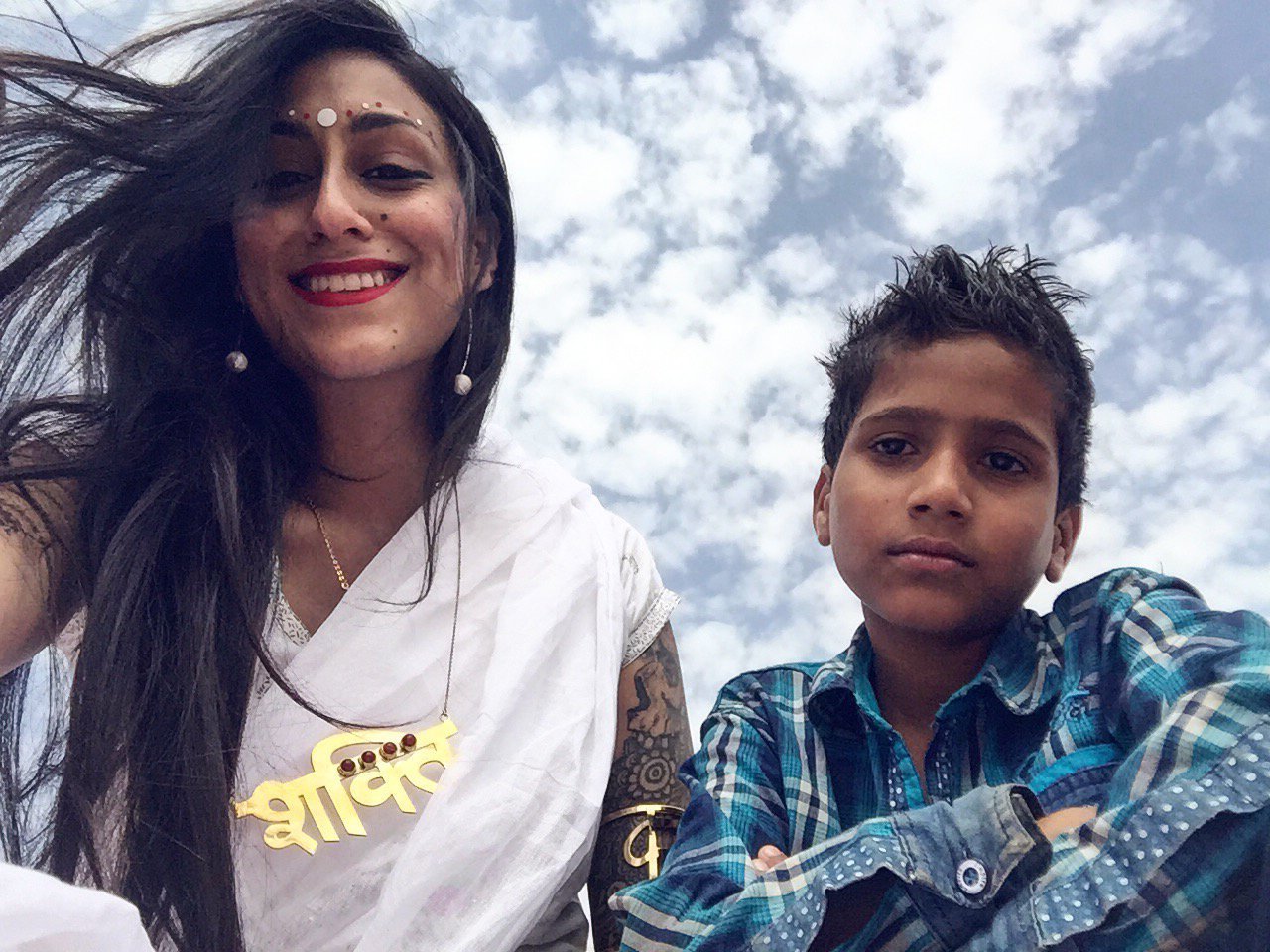 In perfect synchronicity, that same day I saw artist Shilo Shiv Suleiman reflect on her experience of the Allahabad Kumbh in 2012. She says, "Instead of waiting for patriarchy to liberate us or to be worshipped, maybe one has to make an active effort to liberate oneself, and see the strength of the goddess archetype within oneself." Devi Shakti. I couldn't agree more. What a scary, yet beautiful thought. Maybe our powers have been within us all along. It's time to call them forth.
.
Devi Shakti: How the Kumbh Mela Taught Me to Invoke the Power within Me.
Source: Devi Shakti: How the Kumbh Mela Taught Me to Invoke the Power within Me