Inside Kerala's 'complete yoga village': A lot of glee, but some concerns too | The Indian Express
Early last year, when the panchayat of Kunnamthanam, a village inside Kerala's Pathanamthitta district, conducted a health study among its 7000-plus households, some disturbing results were stirred up. Chiefly among them was the reporting of a large number of lifestyle-linked diseases such as diabetes, cholesterol and variations in blood pressure, especially among homemakers.
"We realised that there was an acute dearth of exercise among the villagers. They were not moving enough. So we began a campaign to popularise yoga. We called a meeting of workers of Kudumbashree, NREGA and community leaders to work out an idea," says KK Radhakrishna Kurup, the village panchayat president.
In the days that followed, the panchayat claimed that a coming together of villagers saw schools, temples, churches, business establishments and household terraces turning into temporary yoga training centres. The idea was to teach yoga asanas to at least one member of each family, who would then transfer the skills to the rest of the family. Kurup claimed that so enthusiastic was the response that by June 21 (International Day of Yoga) last year, 12,600 people out of its 21000 residents were taught yoga. Happy with its efforts, the panchayat went on to declare Kunnamthanam a 'complete yoga village'.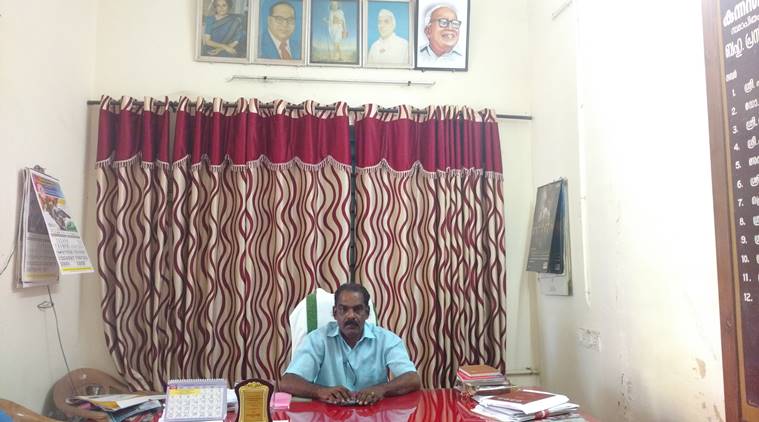 Panchayat president KK Radhakrishnan Kurup
Last week, the Ministry of Ayush announced that inspired by the efforts of Kunnamthanam, it plans to now convert 500 villages into 'sampoorna yoga gram' so as to spread awareness about the benefits of yoga. An elated Kurup, sitting in his office, told the Indian Express, "Kashtapettathinte oru result aanu, valare santhosham undu. Arogyapradamaya gramam aanu njangade lakshyam (This is a result of our hard work. We are very happy. Our aim is a healthy village)."
Yoga is part of local chatter
On a visit to the village, several conversations with locals did indicate that there were efforts to popularise yoga. Ganesh, who runs a stationery store, said there was a time when he couldn't sit in one place for a long time due to acute body pain. "Then me and my wife started going for yoga classes at the community hall. There was a lot of relief. My sugar levels also became normal," he said.
Shailendra Kumar Rai, a migrant worker from Patna, also said that he attended yoga classes by MG Dileep, a yoga trainer who works with the district agricultural office. "I also learnt kung fu. It keeps my body fit and gives me strength," said Shailendra, who works as a contractor in Kunnamthanam.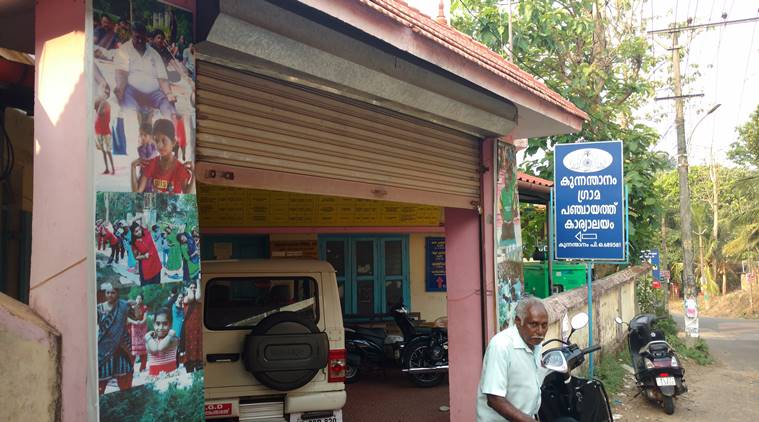 The panchayat office in Kunnamthanam
At the lower primary school in the village, Lincy Varghese doubles up as a yoga trainer and a regular teacher for the kids from grade 1 to 4. "Bhujangasana, trikonasana, vrikshasana…," Varghese names some of the asanas (poses) that she teaches the kids twice a week during the morning assembly. "They (the kids) are always excited. They bring big towels and they want to do yoga every day)," she added.
An hour of yoga in the morning at the local community hall is an engagement Varghese doesn't like to miss. "I have a lot of problems – pain due to bulging of varicose vein, back pain, migraine. When I did yoga the first time, it was really difficult. But now, I feel much better, much happier," she said.
Doubts on sustenance of programme
While the panchayat has set aside Rs 2 lakh from its budget for events leading up to Yoga Day this year, there are doubts on the future of the campaign. Initial burst of marketing and awareness campaign last year may have led to swelled crowds at the training camps, but since then, locals say the enthusiasm has dipped.
"Initially, there was a lot of excitement. Church pastors and faithful were all doing yoga together inside the church. But I doubt whether so many people are going now for the camps," said Santhosh, who operates a general store in the village. "I haven't gone because my leg was injured after I fell down," he said.
At another lower primary school, barely 200 metres from the panchayat office, teachers admitted that there have been no yoga classes since Yoga Day last year. "Frankly, we don't have any time. There's so much to teach the kids," said a teacher, who preferred not to be named.
"Athokke chumma parayunnatha (That's just loose talk)," derided a man, who runs an ayurvedic medicines store in the village, on the panchayat's claims of teaching yoga to one member of every family.
"They did a lot of marketing and managed to create a buzz, but afterwards, it boils down," he said.
Panchayat gears up for women's yoga show this year
This year, the local authorities are aiming to get 5000 women to perform yoga together at a single location on June 21. They have begun speaking to the local kudumbashree (self-help group) units, NREGA workers and community leaders, who were instrumental in last year's programme.
"We are a low-revenue panchayat. We are doing this with our own funds because neither the state nor the centre gives us money. Last year, we spent Rs 70000 on the Yoga Day programme. Since we dove headfirst into this, we are still continuing it," affirmed Kurup, who's also an area committee member of the CPM.
On CPM's perceived change of stance on yoga, Kurup responded, "Earlier, the party had a view that yoga was used as a mode of saffronisation. But now, that perspective has changed. Today, CPM conducts yoga classes at local committee level also."
"We don't want to connect yoga with development. In the name of this programme, we don't want a building or anything. But yoga instructors should get some kind of honorarium," he added.