Zameer Ghumra jailed for showing beheading video to child | BBC
A man who showed a beheading video to a child has been jailed for six years.
Pharmacist Zameer Ghumra, of Leicester, tried to brainwash primary school-age children into supporting the so-called Islamic State.
Ghumra, 38, who told boys they should kill people who insulted Islam, was convicted at Nottingham Crown Court of disseminating "terrorist propaganda".
Judge Gregory Dickinson QC said it was a "determined effort" to radicalise children and turn them into terrorists.
He said the targeting of children made the case "particularly serious".
"These were shocking crimes which damaged the children and caused offence to the vast majority of law abiding Muslims," the judge added.
He also noted there had been an "absence of remorse" from Ghumra.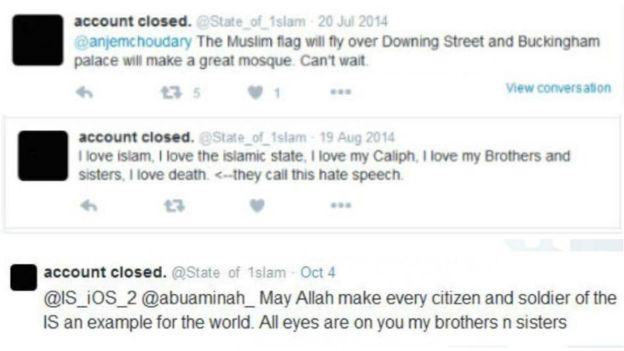 The court heard one of the boys had been diagnosed with post-traumatic stress disorder and another was finding it difficult to sleep and was "afraid of snipers".
During his trial the prosecution said Ghumra "brainwashed" the children, instructing them to not have non-Muslim friends and asking if they wanted to join IS or help recruit others to its ranks.
The older boy described being shown "horrible and disgusting" beheading videos, and said he asked Ghumra "how can you behead people?".
He said the pharmacist replied: "If you truly believe in Allah, you can do it."
Ghumra also followed various IS-linked social media accounts and made the two children follow similar accounts.
The jury was told Ghumra had rented out houses with the intention of setting up a madrasa – an Islamic religious school.
Ghumra, of Haringworth Road, was convicted of disseminating "terrorist propaganda" in the form of a graphic Twitter video on his mobile phone, between January 2013 and September 2014.
Det Ch Supt Martin Snowden, head of Counter Terrorism Policing North East, said Ghumra "willingly abused a position of trust" by showing children "a violent and explicit beheading video with no regard for the profound effect the disturbing material may have on them".
"That act alone is unforgivable," he added.
"His teaching role increases his risk, potentially giving him direct access to young or vulnerable people who may look up to him as an authority figure."