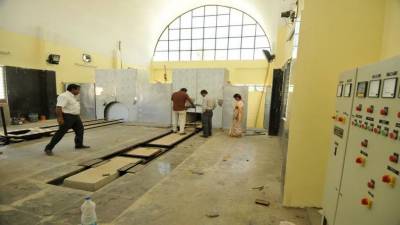 KATHMANDU: Nepal has launched an electric cremation service for the first time in its history to phase out the traditional Hindu cremation process using firewood.
The electric crematorium facility was inaugurated by Minister for Culture, Tourism and Civil Aviation Ananda Prasad Pokharel on Sunday. Hindu people traditionally cremate the dead in the open alongside holy riverbanks, using firewood and straw. According to Hindu religion, the soul of the deceased cremated in this process will find its resting place in heaven.
However, this age-old ritual has been officially transformed into a modern day practice using electricity, with the building of an international-level electric crematorium in Pashupatinath Aryaghat in the capital.
Dr. Govinda Tondon, Member Secretary of Pashupatinath Area Development Trust (PADT), told Xinhua, "The traditional cremation process using firewood has been a major factor contributing to air and water pollution. It is not only time consuming but also quite expensive compared to electric cremation. Thus, we are adopting this modern cremation process."
The traditional funeral process at the Pashupatinath premises along the holy Bagmati River takes more than four hours to fully cremate a body.
The body is burned in the open air with the help of around 300 kg of firewood, straw, ghee and other elements.
Generally, between 12 and 50 bodies are cremated daily in Pashupatinath, with each traditional cremation casting around Rs. 9000 (about 83 US dollars). However, cremating a body in the newly-constructed electric facility is more economical, environmentally-friendly and time efficient.
According to the PATD, cremating a body in the new crematorium only takes about 45 minutes.
"The electric crematorium has an uninterrupted power supply through Tribhuwan International Airport, which is located less than one km away and has a backup power supply system as well," Mukunda Pandey, from the administrative office of the PADT, told Xinhua.
The operation of the electric crematorium has been made possible by the building of two incinerators.
Initially, UNESCO had cited some issues in the building of the electric facility in the area, as the Pashupatinath temple is enlisted as a World Heritage Site. However, in light of the eco-friendly benefits, it green-lit the revolutionary project. At a time when the Bagmati River cleaning campaign has already passed 100 weeks, the electric cremation system is also expected to preserve the holy Bagmati River, the major cremation site for the nearly 4 million people of Kathmandu.
However, there are concerns about how traditional Hindus or older generations will receive this modern method. Due to this, both traditional and electric cremations will be conducted simultaneously, initially, to let the people decide which method they prefer. Cremation using firewood is our tradition and is associated with our religious faith. But since it is time-consuming creates pollution, we are happy to receive a modern cremation facility. "We should move forward with the times," Keshav Adhikari, 61, a retired government official told Xinhua at the temple.
Nepal launches electric cremation service to modernise Hindu practice.
Source: Nepal launches electric cremation service to modernise Hindu practice | Daily Times