While walking along Mumbai's narrow bylanes, Gopal MS realised the abundance of shrines in slums. And most of these, he says, hark back to the local community's village or hometown — a clue to lives they had left behind to make biggish bucks in Mumbai.
"For instance, in Malad, where there is a large Tamil population, you find idols of Our Lady of Velankanni from the Nagapattinam district of Tamil Nadu. And, Mariamma, always dressed in a saree, like Sitaladevi of Mumbai, is known to cure small pox," says the 44-year-old, who works at a Chembur based advertising agency and has, for the last three months started a Twitter hashtag #slumgodsofmumbai.
Gopal, whose Mumbai Paused blog is quite popular, is on Twitter as @SloganMurugan. A resident of Navi Mumbai, he started documenting the city on moving here permanently from Bengaluru in 2009.
Deities of worship arouse a natural curiosity in him, because it's so much more than religion. "Often these shrines are at the centre of the only open spaces in a packed slum, and it's here that people play or dry their papads or read the newspapers," he adds.
One of his interesting finds is the idol of Khandoba, a western Maharashtra deity of the Jajuri community which settled in Ghatkopar (E). Gopal says this is not a journalistic pursuit, though. "I sit around the place and observe it a little, but I don't ask the people from around too many questions on who they are. Often, information on the deity is written somewhere around the shrine itself," he adds.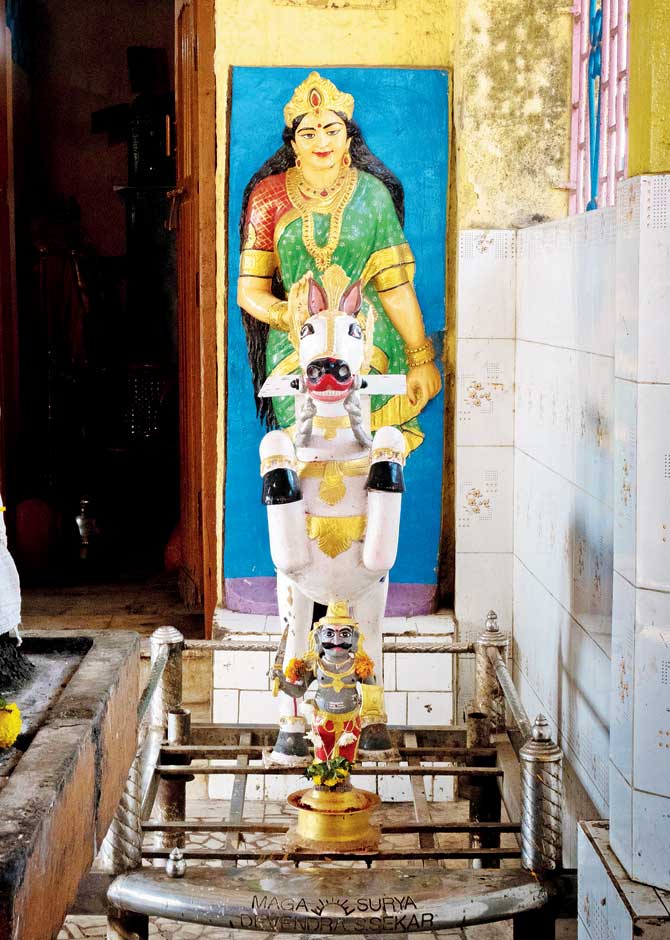 Armed with an iPhone6 (with which he shoots videos) and a Canon G7X (a point-and-shoot), Gopal uses public transport to do his job. "If I am on my way to a meeting in Bandra, for instance, I will get off a few stops ahead. Mumbai is full of gullies and each has a story to tell."
Though the tag is slumgods, not all are exclusively worshipped by local residents. In Thane, Gopal chanced upon a Malayali temple built in a tribute to the Kodungallur Bhagavathy Temple in Kodungallur, Thrissur district. The ancient shrine is dedicated to mother goddess Sree Bhadrakali or Sree Kurumba. "Though built in a slum, I found that most of the worshippers belonged to the middle class. This was possibly the only clear space they had found to build the shrine."
And then, deities are often also human. While there's still the odd picture of Asaram Bapu, today, Gopal says, Sudeeksha, the daughter of Nirankari Baba Hardev Singh — he was killed in a car crash last year in Canada — is now a popular image on Mumbai's streetside.
Already, Gopal has 26 images on the hashtag. More will come, of course. And sometimes, he will need help from Twitterati. Like on Tuesday when he needed to confirm if the deity seated on a horse was Momaji or Jakh Botera.
It is said that India worships countless gods. This might be the best way to get them a digital presence.