Ganesh Temple, the first Hindu house of worship in the U.S., is best known for its magnificently carved 50-foot tower rising above an otherwise ordinary residential block in Flushing. A close second in fame is its basement canteen serving authentic Tamil Nadu fare starring the dosa, a crepe made from fermented rice and lentils.
Taste your way through it all, alongside several dishes usually reserved for Indian weddings held at the temple, on Feb. 28, when the Queens Dinner Club holds its first-ever vegetarian feast. The club, founded by a chef and a food writer with the mission of bringing together food-loving people, has arranged for a special menu of culinary highlights from Kerala and Andhra Pradesh, in addition to some of the canteen's most popular dishes.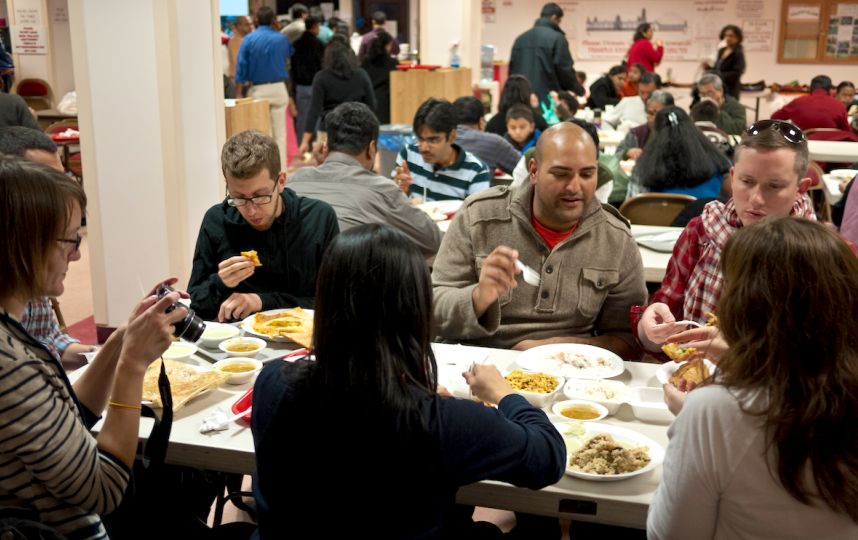 A Passage to South India will begin with a tour of the temple, whose elephant-headed patron saint Ganesha of new beginnings and removing obstacles decorates the rows of stone columns lining its entryway. The three-hour feast features dishes you know and love (crispy onion fritters) and new favorites (bisi bele bath, rich lentil masala stewed with rice), ending with an assortment of desserts including Ganesha's favored laddu.
The evening begins at 7:15 p.m.; tickets are $35. Check out the full menu below and see the canteen in action during Anthony Bourdain's visit to the temple for an episode of "No Reservations" (start at 8:13):
Here's the evening's full menu:
Appetizers
Onion pakora
Crispy onion fritters
Second course
Koottu curry (Keralan plantain and chickpea curry)
Vanyaka koora (spicy Andhran eggplant)
Besi Bele Bath (rice and lentils with mixed vegetables)
Yogurt rice with ginger and chilies
Mixed pickles
Third course
Paper dosa with vegetable samber and coconut chutney
Masala dosa (dosa filled with potatoes and masala seasoning)
Onion chili uttapam (spicy onion pancake with samber and coconut chutney)
Dessert
Adai Payassam (Keralan rice and cardamom pudding)
Jalebi
Laddu
Pineapple halwa
Coffee and tea