Sri Nithyananda Swami Offers Shraddhanjali to HH Sri Pramukh Swami Maharaj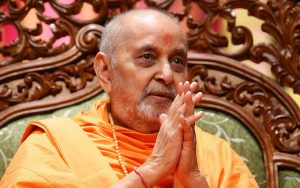 Today HH Sri Pramukh Swami Maharaj attained Mahasamadhi at the age of 94.  Maharaj was one of the pillars of Hinduism and the head of the BAPS Swaminarayan Sanstha. 
His contribution to Hinduism is beyond compare. He has built more than 1,100 Hindu temples, including the Swaminarayan Akshardham temples in New Delhi and Gandhinagar, Gujarat.
Speaking on the occasion,  Swami Paramahamsa Nithyananda, Mahamandaleshwar of the Mahanirvani Akhada said :  "If the modern era has seen someone who is so integrated to what they have taken up I can only name Pramukh Swami Maharaj. I have had the fortune of having his darshan many times – his extreme humbleness; always residing in the space of oneness with Bhagavan Swami Narayan; the way he lived and the way he returned to Akshardhama"
As spiritual Head of Nithyananda Peetam and On behalf of whole Nithyananda Sangha around the globe, he offered his Shraddhanjali to BAPS Pramukh HH Swami Maharaj.
https://www.facebook.com/ParamahamsaNithyananda/posts/1101211976633318:0
His passing away from this plane is a great loss to Hinduism and to Bharath. Hinduism Now Global Press joins the millions of his followers, and Hindu leaders and citizens of this country is offering our Shraddhanali and obeisance to this great light of our world.