Security ramped up at Bhojshala for 'Basant Panchami' |
Dhar (MP): Security has been ramped up in and around Bhojshala monument, where Muslims too offer namaz, as a right wing organisation has stuck to its demand that the archaeological structure should exclusively be opened for Hindus to pray on 'Basant Panchami' today.
A day ahead of the Hindu festival, police staged a mock drill as a part of their preparedness to face any situation at the Bhojshala.
The controversial site here has been virtually turned into a fortress with MP police commandos in black uniform keeping a hawk's eye at the structure.
Nearly 6,000 security personnel, including 10 companies of Rapid Action Force (RAF) and Central Reserve Police Force (CRPF) will be deployed at Bhojshala tomorrow to ensure that Hindus and Muslim perform prayers at different times as directed by ASI, Superintendent of Police Rajesh Hingkar told PTI.
He said that about 1,000 policemen are already manning the site. Besides, 140 CCTV cameras will be installed and two drone cameras will be put in place, he added.
Tension has been building up here ahead of the 'Basant Panchami' after right wing leader Vijay Singh Rathore demanded that Hindus be allowed "dawn-to-dusk" access to perform puja at Bhojshala, despite the order issued by the Archaeological Survey of India (ASI) last month.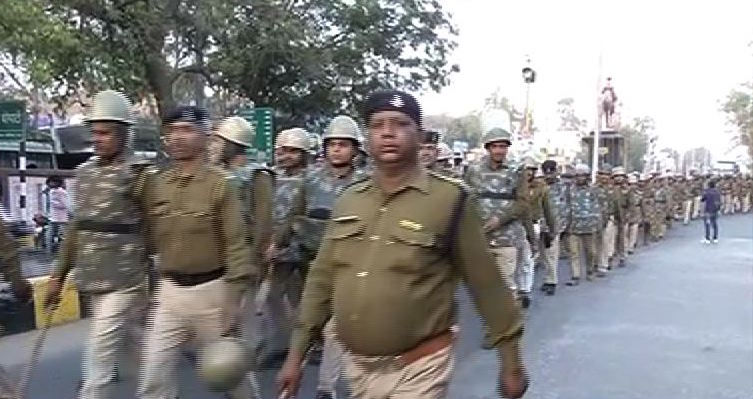 The order stated that on Basant Panchami, Hindus will perform puja at Bhojshala from sunrise to 12 noon and from 3.30 PM to sunset, while Muslims will offer namaz between 1 PM and 3 PM.
Hindus consider Bhojshala as the temple of Goddess Wagdevi (Saraswati), whereas Muslims treat it as Kamal Moula mosque.
However, Bhoj Utsav Samiti (BUS) is sticking to its demand that Hindus should be exclusively allowed to enter Bhojshala to offer prayers on their festival today. "We stick to our stance that only Hindus should be allowed to worship at Bhojshala from dawn-to-dusk," BUS convener Rathore said today.
On the other hand, Muslims' Shahar (city) Qazi Waquar Sadique on Thursday said that his community should be allowed to offer Friday namaz at Bhojshala.
However, MP Home Minister Babulal Gaur said they would ensure peaceful celebration of Basant Panchami.
"All preparations have been made to ensure that Basant Panchami passes off peacefully in and around Bhojshala," Gaur told
Security ramped up at Bhojshala for 'Basant Panchami' |.
Source: Security ramped up at Bhojshala for 'Basant Panchami' |