Delhi on high alert over Maha Shivratri terror threat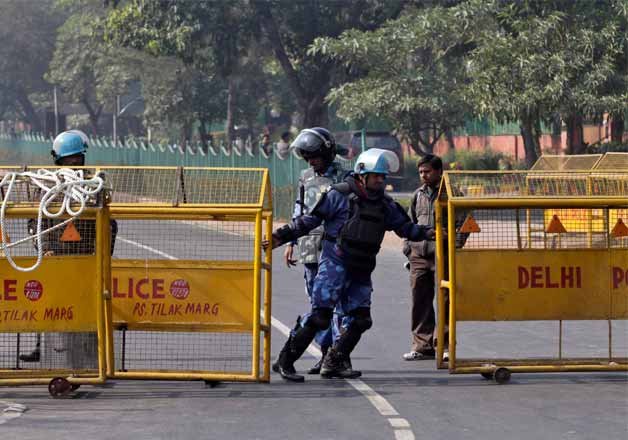 New Delhi: The national capital has been put on high alert after security agencies voiced suspicion that the 10 terrorists, who may have entered India via Gujarat, have sneaked into the capital.
Police has stepped up security around temples, iconic buildings, malls and markets, and military installations in Delhi and NCR after an Intelligence Bureau alert that terrorists might strike today, on the occasion of Shivratri.
Security personnel also fanned out across crowded markets such as Sarojini Nagar and Lajpat Nagar, put up barricades to check vehicles at many places and frisked visitors to popular temples across the city.
A constant vigil was maintained near prominent malls, hospitals, schools and colleges.
Pakistan's NSA Nasir Janjua has alerted his Indian counterpart Ajit Doval about 10 terrorists sneaking into Gujarat to attack a Ram temple, following which the state has been put on a high alert.
The latest warning from intelligence agencies also says the terrorists could be from Lashkar-e-Taiba or Jaish-e-Mohammed.
The Special Cell and Crime Branch of Delhi Police have been briefed about the input separately, so that activities of gangs operating in and around the city and elements with suspected terror links can be monitored
The police are also ensuring that CCTV cameras at all places with high footfall, like popular markets in the city and metro stations are functional. Patrolling across the city has been intensified,
Security has been ramped up at major religious sites in Gujarat like Somnath Temple and Akshardham and in metro cities — Mumbai, Delhi, Chennai, Kolkata and Bengaluru
Vital installations across the metros like railway stations and airports are also being secured.
High alert in Uttar Pradesh :
Uttar Pradesh was also put on high alert on the occasion of Shivratri, following inputs from the Intelligence Bureau (IB) on the possibility of terror attacks at temples and religious places, an official said on Monday.
Heavy security was put into force at important Shiv temples and special security checks were in place at the Kashi Vishwanath temple in Varanasi.
Special vigil was being maintained on big and small temples in places like Kanpur, Agra, Lucknow, Faizabad, Gorakhpur, Azamgarh and other important places, the official said.
Police was also keeping a close eye on the 'kanwarias' (devotees who carry holy Ganges water and walk bare foot to offer it to Shivlinga's) as there was an apprehension that they may be targeted by terror outfits.
This article was originally published on India TvNews. Read the original article here.