The legend of Mahalaxmi Temple: A dream made true – The Indian Express
One of the most famous temples in Mumbai is not just popular for the deity it shelters but the legend behind its existence. Located on the corner Bhulabhai Desai Road, or more popularly known as Cadbury junction, the Mahalaxmi Temple is dedicated to Mahalakshmi — the central deity of Devi Mahatmyam.
The iconic structure, built nearly three centuries ago, witnesses at least 50,000 visitors in its lean season and over 5 lakh during the festive season of Navratri. Legend has it that in 1875, when a Hindu engineer with the British was constructing the adjoining causeways of Worli and Malabar Hill, the sea always troubled his team. Every time the foundation was laid, the sea would rush in and destroy it.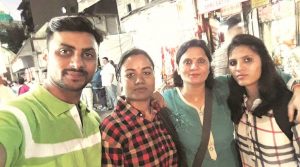 Then one night, goddess Lakshmi apparently appeared in the dream of the contractor and said that a deity of hers would appear in the sea. She had apparently told the contractor that the breach wall would stand tall only if her diety is installed in a temple.
It is believed that the very next day, an idol of Goddess Lakshmi was found in the sea. "People are drawn to this temple because of this dramatic tale. Every temple has its legend, but this one is quite unique," said 25-year-old Snehal Parkar. Over the years, the legend has been altered and the Hindu engineer has been given a caste — Pathare Prabhu.
However, not many are familiar with this story, as there are no guides on the temple premises. Shakir Sheikh, an HR executive, has only heard of the temple name, but never the legend. Sheikh was visiting the temple with a few relatives from Indore.
Engrossed by the aura and the textures used, they were still looking for more information regarding the creation of the temple. Other visitors, meanwhile, praised the clean premises and adequate security at the temple. But they raised concerns about the lack of space provided to keep footwear.
Besides the structure Goddess Mahalakshmi, idols of Goddess Mahakali and Goddess Saraswati, which are also believed to be pulled out of the sea, have been placed inside the Mahalaxmi Temple too. A large number of believers throng this temple on Fridays.
A lesser-known fact here is that to get a glimpse of the idols if they visit the temple around 9.30 pm. During this time, the masks are removed and the original idols are open for darshan for about 15-20 minutes, before the temple closes.