H.H. Paramahamsa Nithyananda sets a GUINNESS WORLD RECORDS® Record
His Holiness Paramahamsa Nithyananda sets the world record for Largest rope yoga lesson at the Nithyananda Peetam, Bengaluru Aadheenam on this day 30 September 2017. This award given for the very first time recognized largest class ever conducted in Kundalini Rajju Yoga℠, the practice of rope yoga.
Kundalini Rajju Yoga℠ has its roots in the ancient science revealed in the sacred Shaiva Agamas. Paramahamsa Nithyananda is bringing back the sanctity to this sacred science rooted in Sanatana Hindu Dharma. He has tangibly proven Yoga is not just about asanas or pranayama, but a direct experience of extraordinary powers latent in every human being. Nithyananda Yogis℠ – initiated disciples of Paramahamsa Nithyananda successfully completed the 60-minute lesson in Nithyananda Kundalini Rajju℠ in the very first attempt this afternoon.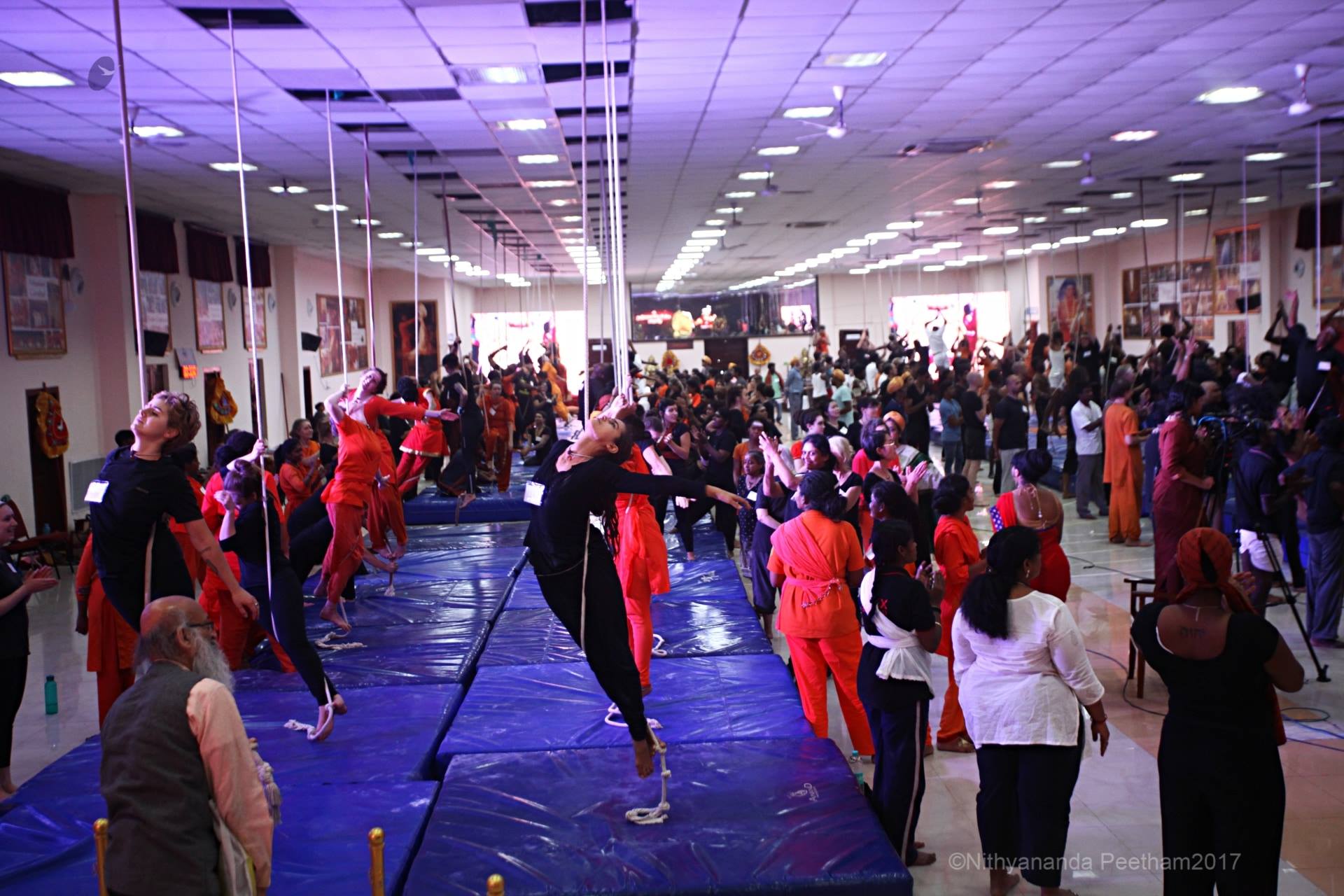 Paramahamsa Nithyananda, widely accepted and revered as a living avatar, is revealing Yoga from the original source, the Yoga Pada of the Shaiva Agamas and in the Upanishads. Throughout Hindu history, great Yogis and rishis practiced Yoga to acquire the best physique and physiology to manifest the state and powers of Sadashiva. Nithyananda Yoga℠ is different in that it is not a practice, but a blissful entanglement with the Avatar which awakens the powerful kundalini shakti or dormant energy of the individual.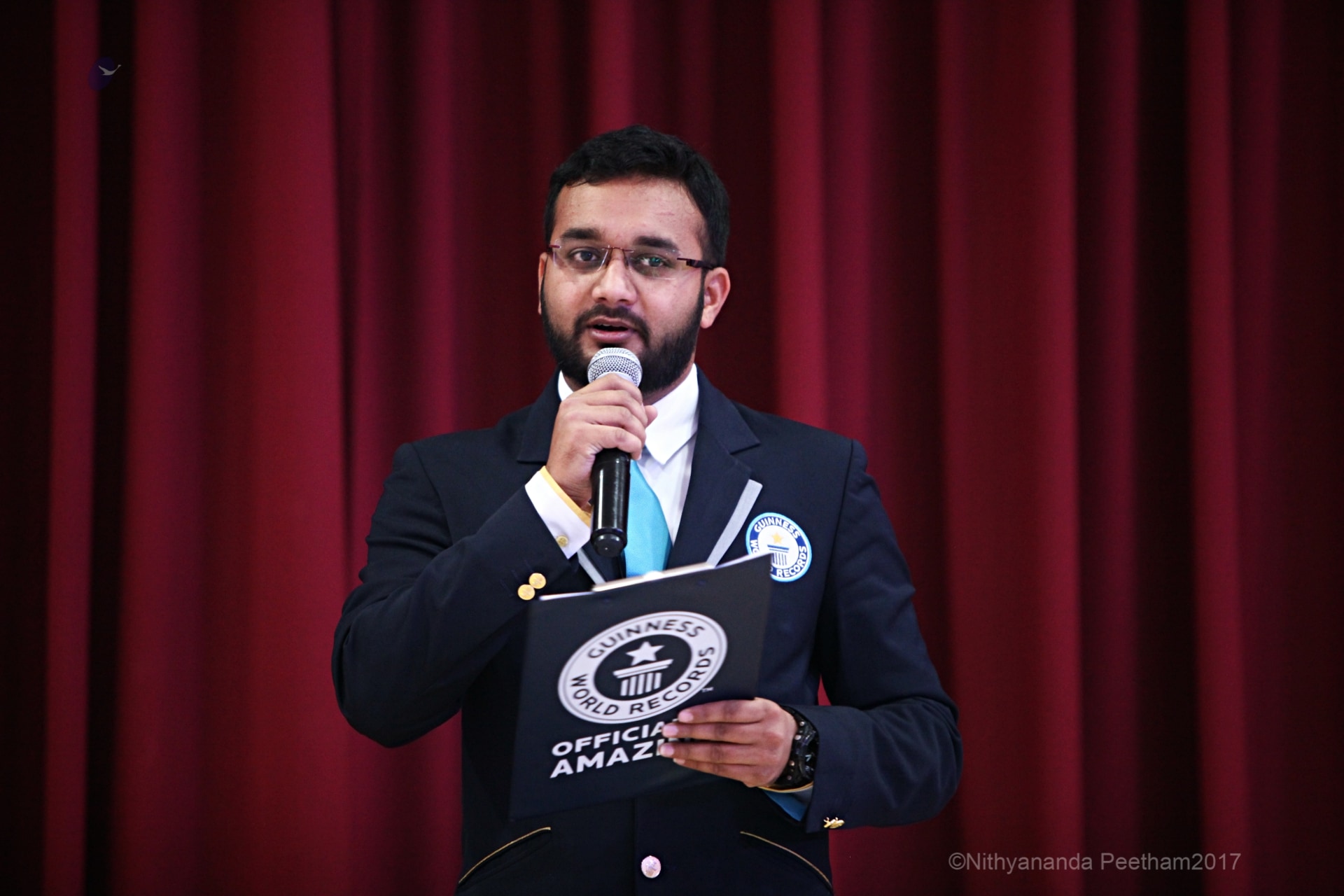 Swapnil Dangarikar, the official adjudicator from Guinness World Records®, honored His Holiness Paramahamsa Nithyananda with the certificate of successful "officially amazing" record of the largest rope yoga lesson on behalf of Guinness World Records.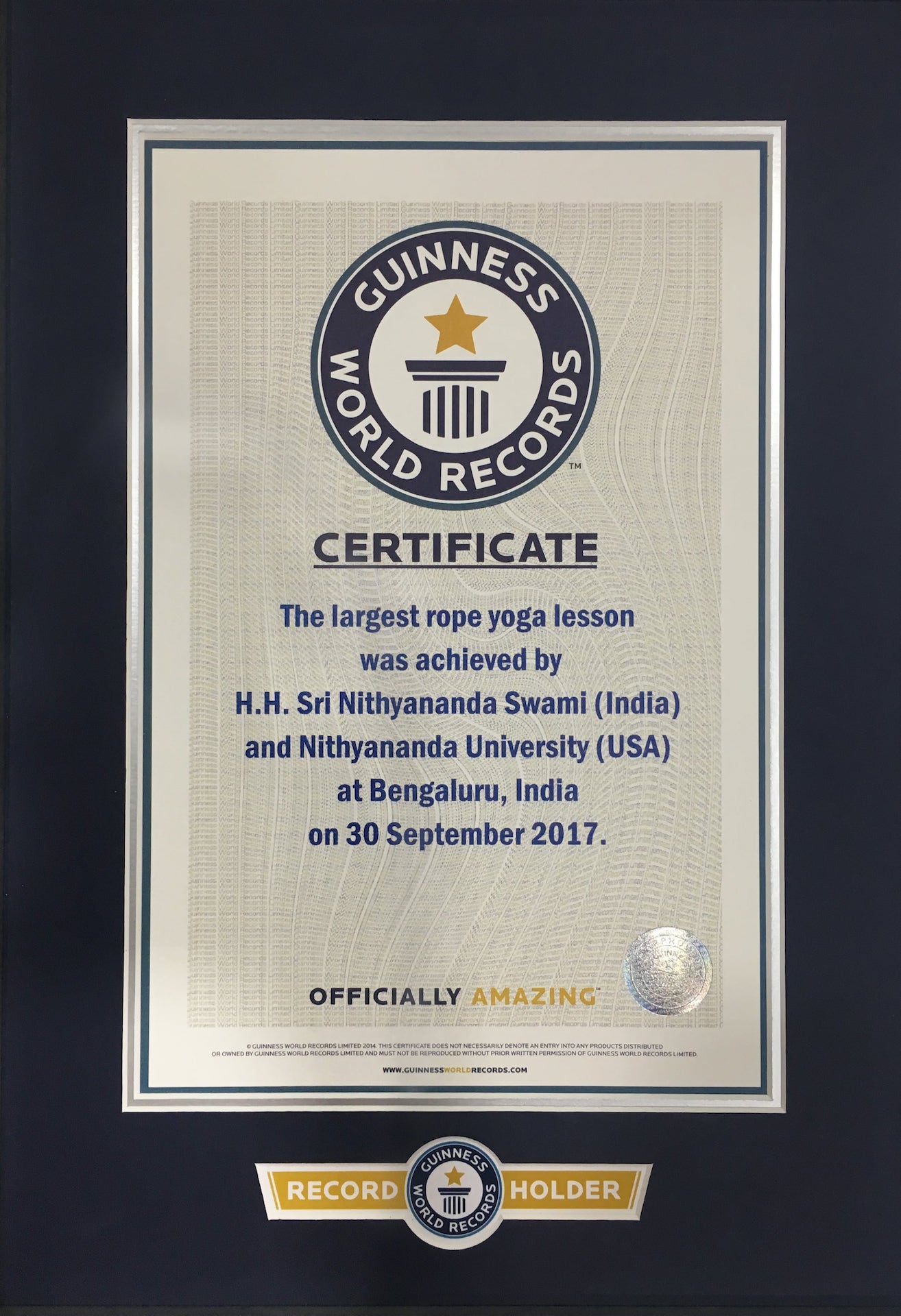 About His Holiness Paramahamsa Nithyananda
Paramahamsa Nithyananda is revered, regarded, respected and worshipped as The Avatar (living incarnation as per Hinduism) of super-consciousness by millions across the globe. He is also the spiritual head of Mahanirvani Peetha, the oldest and largest apex body of Hinduism. He and his Sangha (spiritual community) around the globe is serving humanity by reviving the Science of Completion℠, Science of Enlightenment℠ and manifesting various extraordinary spiritual powers as per the Vedic Agamic tradition of Sanatana Hindu Dharma. He is the author of 300 books, which are translated and published in 500 titles and various international languages. His Sangha has a strong presence worldwide through numerous Temples, Adheenams (Temple monastery complex), Gurukuls (Vedic schools), universities, goshalas (cow shelters). His live Satsangs (spiritual discourses) are viewed every morning (8am IST) by people from all countries around the world.
Nithyananda Kundalini Rajju Yoga℠ is a certified course offered by Nithyananda University℠. For further information on the award or courses please visit www.nithyananda.org
https://www.facebook.com/ParamahamsaNithyananda/posts/1520370431384135
https://www.facebook.com/ParamahamsaNithyananda/posts/1520370431384135