The city of Ujjain hosted the Kumbh Mela, the largest religious congregation of Hindus, with over five crore people including seers attending the holy city.
It is one of the four fairs traditionally recognised as Kumbha Melas, and is also known as Ujjain Kumbh Mela.
As per the convention, all 13 'akharas' of seers took out a procession called 'Peshwai' in Ujjain on the eve of the main fair.
According to Hindu mythology, Lord Vishnu dropped drops of amrita (the drink of immortality) at four places, while transporting it in a kumbha (pot). These four places, including Ujjain, are identified as the present-day sites of the Kumbh Mela.
In its current form, it began in the 18th century when the Maratha ruler Ranoji Shinde invited ascetics from Nashik to Ujjain's local festival.
A river-side festival, it is celebrated on the banks of Shipra river
"Around five crore devotees take part in the Kumbh mela on the banks of pious Shipra river for which security has been ramped up in every nook and cranny of the district," said Inspector General of Police, Ujjain Range, Madhu Kumar.
At present, 22,000 security personnel, including the state policemen, personnel from central forces and other departments are on deployment, he said.
"At the time of shahi snan (royal dip) in Shipra river, 25,000 security personnel will keep a watch at the Mela venue," Kumar added.
Rediff.com takes a peek at the celebrations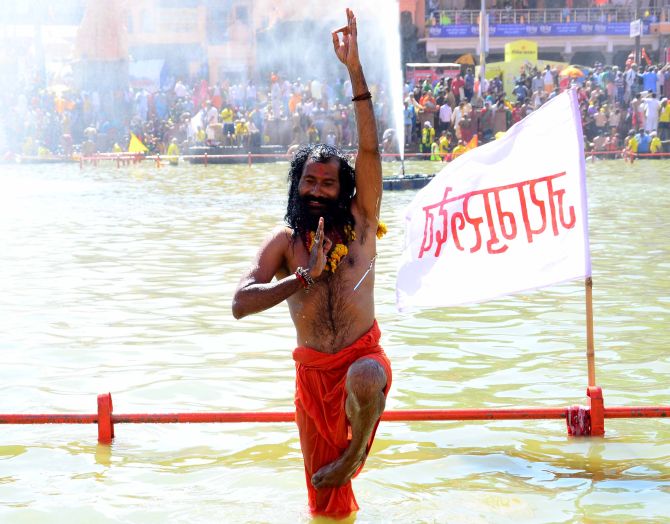 A STUDY IN BALANCE: An ascetic plays a riff on the Garudasana or the Eagle Pose. Photograph: Chandra Mohan Aloria
---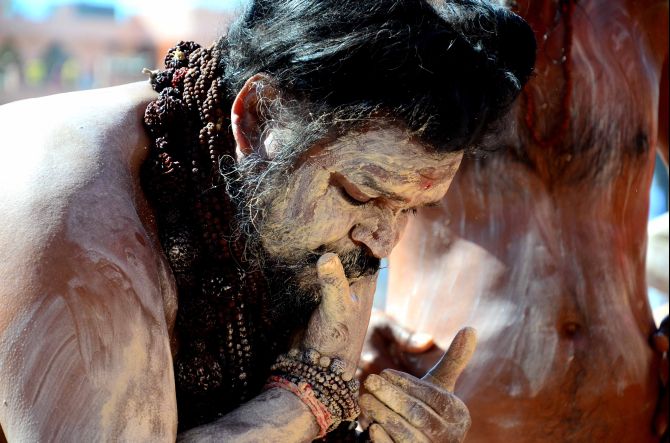 ASHES TO ASHES: A sadhu applies sacred ash all over his body as part of a ritual. Photograph: Chandra Mohan Aloria
---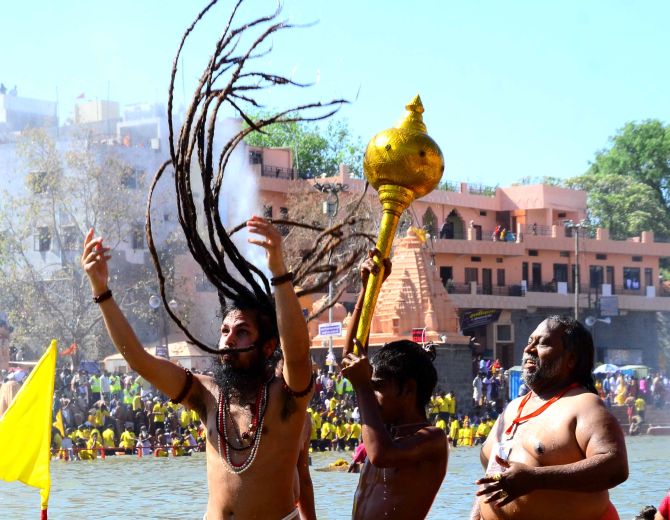 PAANI DA RANG: This sadhu is having a great time during his shahi snan. Photograph: Chandra Mohan Aloria
---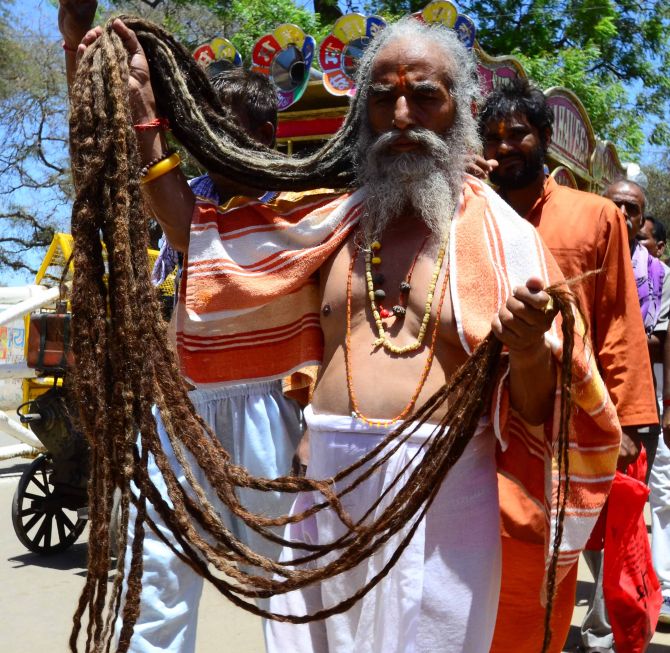 RAPUNZEL AIN't GOT NOTHING ON ME: A sadhu displays his dreadlocks in their full glory ahead of the shahi snan. Photograph: Chandra Mohan Aloria
---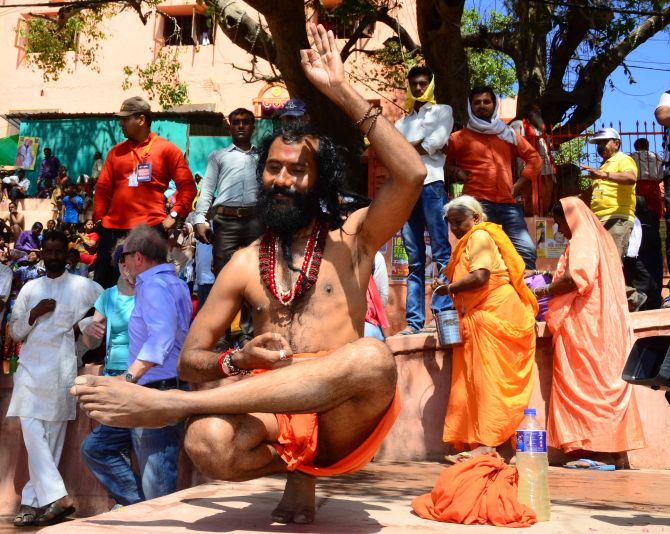 A POSE TO END ALL POSES: A sadhu perches himself on one foot whilst providing devotees a wondrous sight of equilibrium. Photograph: Chandra Mohan Aloria
---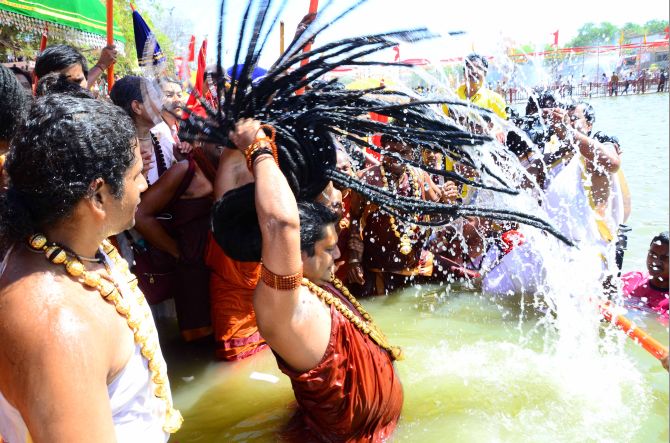 SPLASH: A sadhu rams his locks through the waters of of the Shipra river as he takes part in the shahi snan. Photograph: Chandra Mohan Aloria
---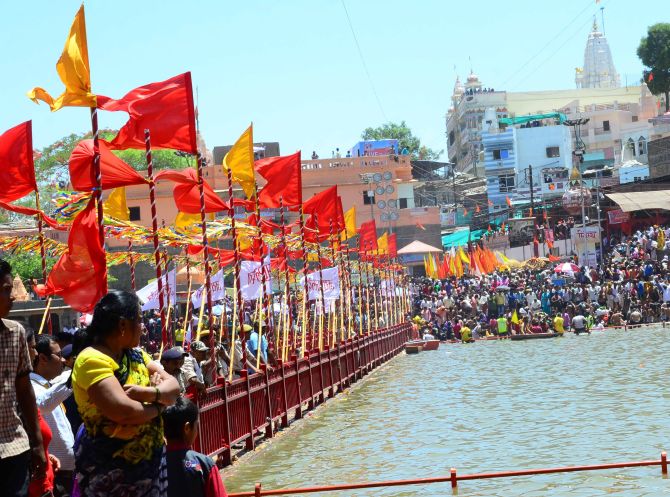 SUMMER COOL: Devotees prepare themselves before entering the water of the Shipra river during the royal dip. Photograph: Chandra Mohan Aloria
---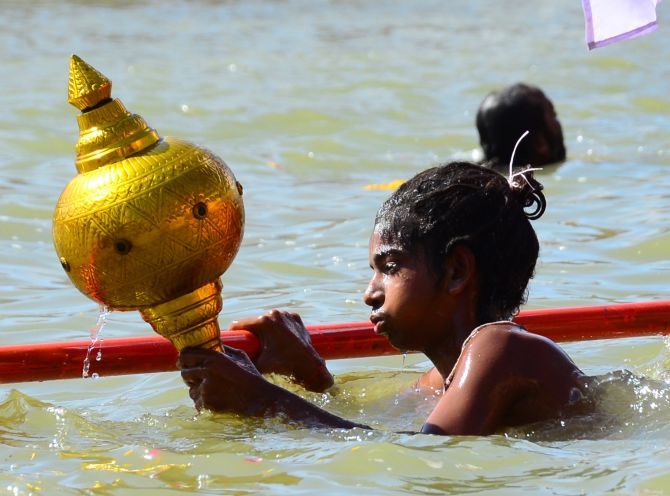 MACE WINDU: A young devotee swims through the waters armed with a gada (mace). Wonder who's going to be knocked on the head? Photograph: Chandra Mohan Aloria
---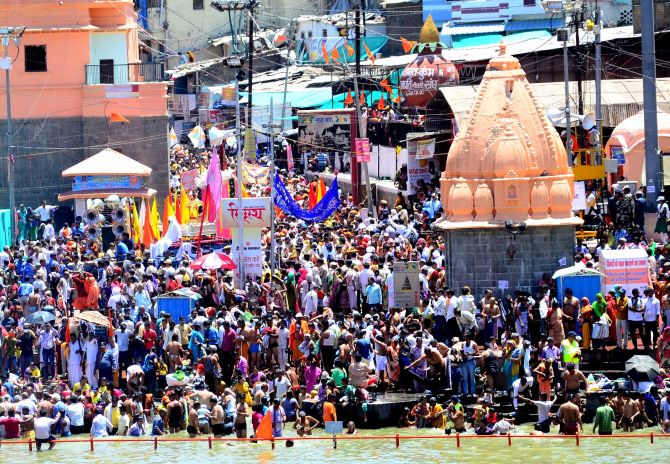 A SEA OF DEVOTEES: Supplicants enter the holy waters during the shahi snan (royal dip). Photograph: Chandra Mohan Aloria
---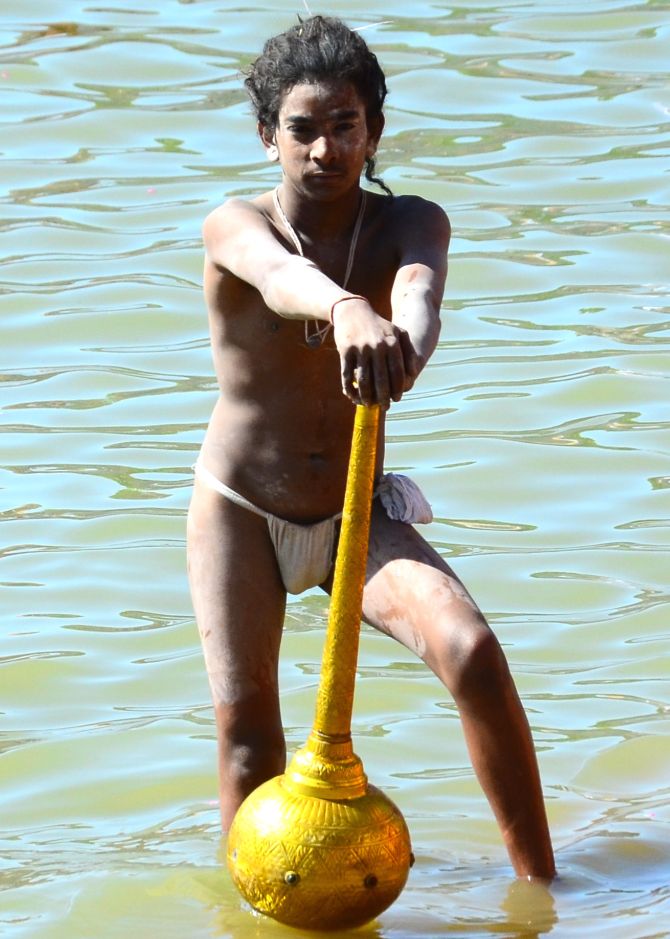 WRESTLEMANIA: A young devotee poses alongside a weighty looking mace. Do we have the next Salman Khan on the horizon? Photograph: Chandra Mohan Aloria
---
THE GREAT DIPPER: A sadhu spreads his dreadlocks luxuriously as he poses for a photograph after taking a dip in the Shipra river. Photograph: Chandra Mohan Aloria
---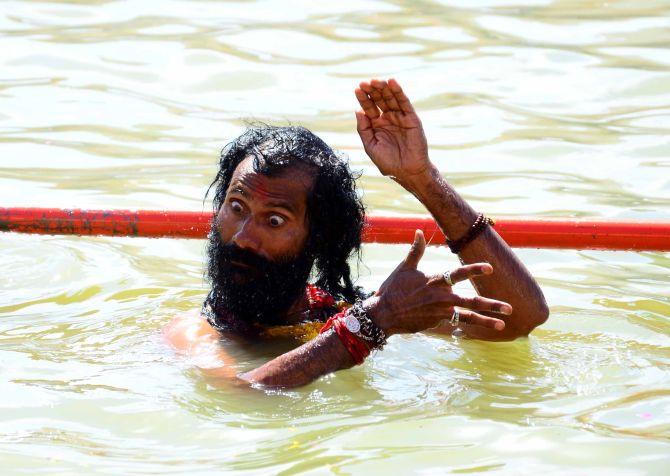 CRAZY EYES: A sadhu makes faces during the ceremonial bath. In deep trance are you? Photograph: Chandra Mohan Aloriaia
---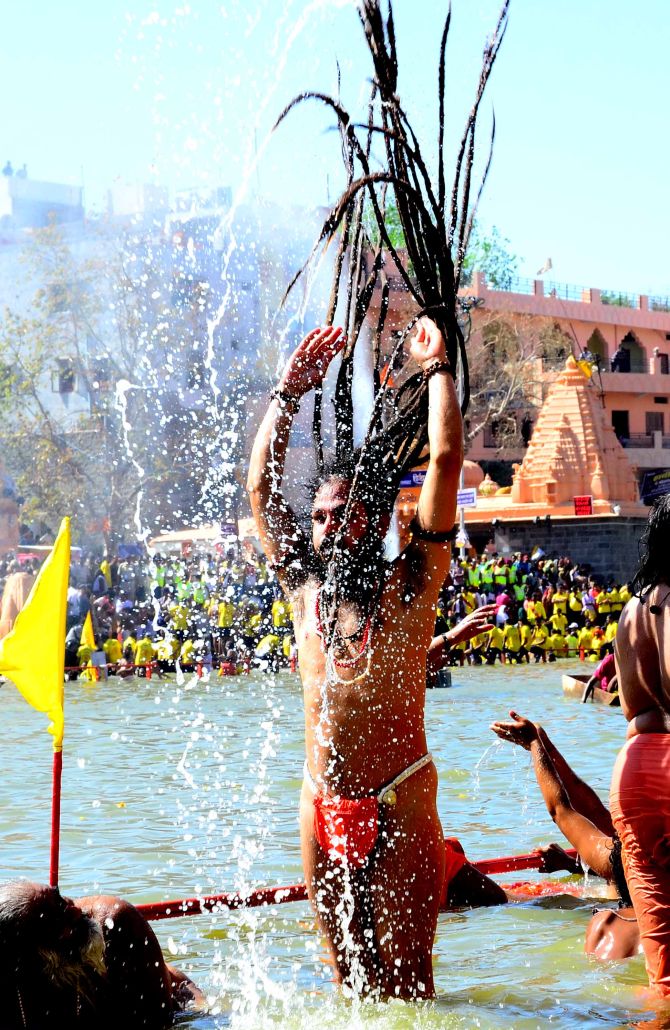 JUST LIKE DISNEYLAND: A sadhu enjoys his time in the river during the shahi snan ceremony. Photograph: Chandra Mohan Aloria
Source: Sadhus and seers take holy dip during Ujjain Kumbh Mela – Rediff.com India News