Recall Bhopal Tragedy To Know Real Teresa
Delhi Chief Minister Arvind Kejriwal is right. Rashtriya Swayamsevak Sangh (RSS) Sarsanghachalak Mohan Bhagwat has no business criticising Mother Teresa of Calcutta — a carefully cultivated icon of charity, which has today transcended all barriers of religion and has emerged a national archetype for selfless service. Just as how the RSS has been the caricatured storm-troopers of hatred in the media Teresa is the epitome of love and that is of course a monopolized Christian virtue.
Let us take just one instance for comparison. On the night of 2 December 1984 at Bhopal, methyl isocyanate (MIC) leaked and created the world's worst industrial disaster. Within the close circles of the RSS, one hears occasionally about how swayamsevaks managed to reach there along with the Indian Army and how they braved the gas leak and helped the victims. They toiled hard to restore the collapsing water and sanitation facilities. They repaired latrines. They removed the dead bodies and helped the bereaved identify the dead ones. The boys in half pants who were medical students came from Agra, camped at Bhopal and offered round-the-clock service to the affected people. All these one could hear in Sangh circles and read in Sanghi literature. But are there any documents? Any photographs? The usual answer one gets in the Sangh circles: 'Serving our brothers in times of calamity is our duty. And one does not document what one does to one's own brother.'
Contrast this with what Teresa did soon after the Bhopal disaster. Her words and activities are well documented. Let us leave out for a moment what her critics like Christopher Hitchens have accused her of — a sly empathy towards Warren Anderson, then Chairman of Union Carbide. What we have here are recordings from an admiring journalist, not a cub reporter but a veteran, Anees Chisti. His book Dateline Bhopal is, as the subtitle explains, "a newsman's diary of the gas disaster" and is much acclaimed. "Mother of all", as the author-reporter calls her, was asked to spell out her message for the people of Bhopal reeling under the horrible effects of the disaster, she simply said: "Forgiveness". "Forgiveness gives one purity of heart and peace of heart," she elaborated after a pause. "Her answers to numberless and many of them child-like questions by reporters", Chisti states with obvious adoration, "were short but thoughtful."
Question: Where would you place the magnitude of the Bhopal tragedy among the many having experienced by you?
Teresa: I never compare. Each one has its own dimension and effect.
— How has the tragedy affected you?
— We are so excited because it has affected us. No one thinks of millions of abortions taking place all over.
— Do you have any special feelings for pregnant mothers with whom their unborn kids also died?
— It was an accident; the mothers died, so, the children also died. (Dateline Bhopal, p 52)
Now, had anyone else answered the above way, it would have been considered the crass, inhuman fundamentalism. But not so with Teresa of Calcutta. She could get away with putting the onus of forgiveness on the victims and trivialising their sufferings by magnifying the pet-crusade cause of the Church — battling abortions. She could get away with utter inhumanity towards fellow human beings who had been the victims of a colossal criminal negligence, particularly if that negligence is caused by someone sympathetic and fat in his cheque-book towards Christian charity. We now know that even as Bhopal gas tragedy struck, Warren Anderson was engaged in negotiations with one Indira Ayengar, a rabid Christian fundamentalist activist, as to how they could avert the public relations fallout by donating to the Missionaries of Charity. That institution of Teresa, of course, being acutely aware of the negative publicity it would bring upon, refused to oblige. But Teresa at once started singing the tune of forgiveness… (if it is an 'accident' as Teresa claimed, whom should the victims of Bhopal disaster forgive? God?)
The 'saint' could transform through media magic any inhumanity towards heathens into a Christian act of love. Imagine a Madhav Sadashiv Golwalkar or a Bhagwat saying similar things during such a human tragedy and getting away with it! Conversely, the RSS may be the only national organisation in India that gets to the area of any natural calamity within a few hours and selflessly dedicates themselves to the rescue and care of the victims irrespective of their religion. Yet this organisation will still be seen as storm-troopers of hatred and the only media miracle they can do is that often then become invisible to the cameras covering the disasters.
Decades later, one of Teresa's international spin doctors Dominique Lapierre would come out with a docu-drama on Bhopal. Lapierre had earlier in his City of Joy called Ramakrishna Mission monks "pimps". Now the same charlatan chronicler would, with media fanfare, make the Missionaries of Charity, particularly a young Scot nun, probably a fictitious character, the crusader against the 'corrupt' Indian system that allowed thousands of Indians to die through crony capitalism. Now that chronicle would become history and any role by the RSS would be relegated to the whispering literature circulated within shakha circles.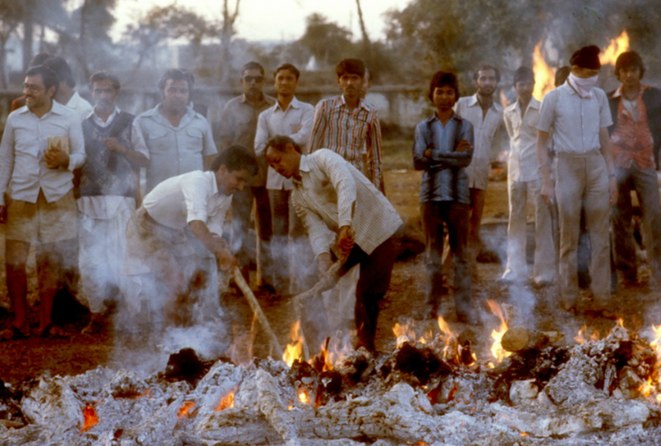 Yet strangely, something survived despite the RSS's constant urge to shun media limelight. Photographer Pablo Bartholomew can, by no stretch of imagination, be considered a friend or even a distant admirer of the Sangh. If anything, he seems to be more in awe of the Nehru-Gandhi family and its socialism. But in his online photo exhibition on the Bhopal gas tragedy, one finds those much caricatured boys in khaki pants serving the victims, caring not for the photo flashes. Ironically this may be the only media documentation of RSS service to Bhopal victims outside Sanghi circles.
With such a defeat throughout media narrative of present history, how dare the RSS chief question the fabricated integrity of the icon of our ages — the White, Christian angel toiling for the salvation of dark-skinned heathens! Shut up Hindus! Hail Teresa!