Spirituality on canvas
For a few children, their siblings are their best friend while others strike a deep bond with their pets, but artist Seema Kohli was clearly not like any other kid. Right from the age of three, her best friend has always been the canvas. Currently in the city with her show — Golden Womb: Dawn of Time — Seema talks about her work and how art gives meaning to her life.
When she was a child, Seema was shy and reclusive. Her worried father took her to a psychologist and he was asked to give her some paints and a paper. "The doctor said, 'If that doesn't work then we have a problem.' But it worked!" says Seema. "In fact it worked so well that my father would look at my art and try to analyse what I was feeling," she says with a laugh. From then on, there was no looking back for Seema who was always inclined towards spirituality, thanks to her parents and her grandfather.
The first thing you notice about her work is the fact that none of the figures on the canvas have a face. "I am constantly trying to put myself in other's shoes. So I did not want to put a face to these figures, I wanted people to see themselves in the work," she explains.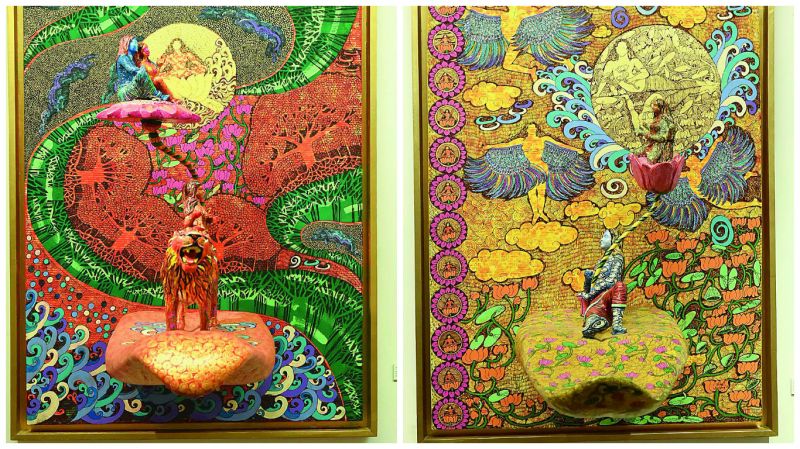 Two of the sculptural paintings at the show
The exhibition that was conceptualised three years ago has 200 art works on display and the huge amount of art justifies the time spent in creating them. Talking about her show and the idea behind the golden womb, she says, "I believe that a womb existed and from that womb everything was created. I call it the golden womb or 'Hiranyagarbha'. It has appeared in several vedas and it talks about the creation of things. Many know that there was a burst of energy and that was how everything was born and that is what my work talks about. The direct translation of Hiranyagarbha means surya, which means that all life forms emanated from there. It was only later that it dawned on me that many people identify the sun as something masculine, but if all life forms do come from it how can it only be masculine? The surya is an amalgamation of male and female, yin and yang; and the more I studied this, the more I began incorporating the idea in my work," says Seema who has been working on this concept since the past 20 years.
Among the 200 art pieces on display there are several that catch your eye. Take the sculptural painting that has a tongue sticking out of a canvas for instance, or the many sculptures on display. Then you have the large artwork where 64 pieces of etchings come together, titled Chausat Yogini.
"The idea is that from the golden womb the energy that descended, disintegrated into three shaktis. These three shaktis further disintegrated in to seven, then 15 and so on until 64 and more shaktis were born and continue to multiply. This was one way of depicting that energy," she explains.