Why is Ganesh Chaturti the most important Festival in Maharashtra
Mumbaikars' Favourite Celebration
Ganesh Chaturthi, one of the most popular festivals throughout India is celebrated in a spectacular, grand and awesome manner across the whole of Maharashtra. Mumbai, in Maharashtra particularly holds the top spot in the whole of India for the lively celebration of this festival.  It is enthusiastically celebrated with devotional songs, dances and drum beats for ten days from Bhadrapada Shudha Chaturthi to Anant Chaturdashi.
The current social issues Mumbai faces are represented by the pandals (large open-sided temporary pavilions) erected for the occasion across Mumbai, and it is at these pandals that Ganesh Chaturthi is celebrated in a thematic manner through a series of colourfully decorated idols of Ganesha which are installed at homes, Sarvajanik Ganesh Pandals and temples with tableaux, paintings and decorations.  It was Lokmanya Tilak (a freedom fighter), who made the Ganesh festival in a manner reminiscent of a grand community celebration, during the Freedom Movement from British rule.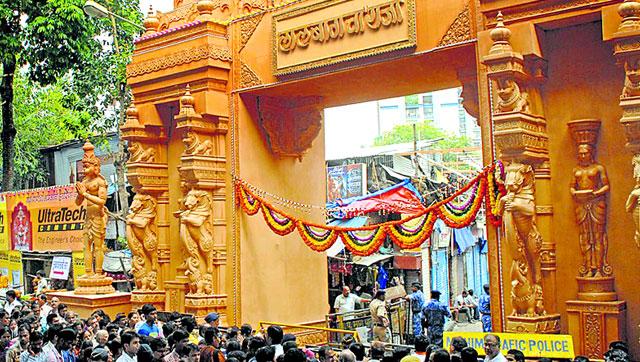 Visiting some of these pandals will give a visitor a view of the importance and grandness of this festival in the suburbs of Mumbai.
Important Ganesh Mandals of Mumbai
The Ganeshotsav program lead to the creation of the first ever Mandal (large congregation of people come together for a common cause) by Lokmanya Tilak called the Ganeshgalli Mandal. Installed by Lokamanya Tilak in 1893, the first Sarvajanik Ganeshotsav Mandal hosted an idol 2.25 foot tall made of gold.
The idol which is tall and decorated in a splendid manner was installed inside a replica of the famous Kedarnath temple in 2009.  This Mandal is highly praised for its activities such as blood donation and other social campaigns and it hosts a special Arti for policemen and journalists, acknowledging their contribution to the celebration of this festival throughout Maharashtra.
Lalbaugcha Raja Sarvajanik Ganeshotsav Mandal (known as Lalbaugcha Raja throughout India), has been organizing Ganesh Chaturthi since 1934.  At this Mandal the pregnant women, elderly and the differently abled do not have to queue for 3-7 hours for a darshan of Ganesha, as special arrangements are made for them. On the other hand, lakhs of devotees who don't have these special arrangements, stand in long queues for hours to pay homage to the idol and make offerings of various kinds, including in gold and silver.
Media coverage is extensive owing to high profile celebrities who come to offer their prayers to the Lalbaugcha Raja.  Offerings in gold and silver have risen in proportion to the status of high-profile celebrity visits of Amitabh Bachchan, Bipashu Basu, Shilpa Shetty, Shankar Mahadevan and Sonu Nigam among several others.
The Sarvajanik Shree Ganeshotsav Khetwadi Mandal is renowned for its lighting and decoration and has been organizing Ganesha Chaturthi celebrations since 1970.  Khetwadi is also known for its tall idols that can go up to 12 feet in height!
Ganesh Chaturthi Becomes Eco-Friendly
Meanwhile, the concept of "going green" is gaining popularity in Maharashtra. The residents of a housing society in Khar, a suburban in Mumbai have eco-friendly Ganpati idols in their homes. The Brihanmumbai Municipal Corporation (BMC) and the Maharashtra Pollution Control Board, has appealed to Mumbaikars to use eco-friendly Ganesh idols and artificial ponds for immersion in order to bring the pollution down. Eco-friendly Ganesha Idols made from tissue paper have been installed by numerous Sarvajanik Mandals across Maharashtra.
This festival has spurred a series of social undertakings by the Government of Maharashtra. The Brihanmumbai Municipal Corporation (BMC) distributed hoardings, banners and pamphlets to Mandals across the city for creation of awareness of social issues like female foeticide.  All Mandals pledged not to put up banners and hoardings advertising tobacco and gutka, especially during the Ganesh festival.  Also, students were galvanized from over 100 colleges to execute HIV awareness programme at the various Mandals.
The 63 year old Akhil Anjirwadi Sarvajanik Utsav Mandal in Mazgaon created a flutter when it carved an exquisite replica of the Tirupati temple worshipping both Tirupati Balaji and Ganesh.  In Byculla, the betelnut Ganpati of Makba Chawl imparted the need for avoidance of tobacco and gutka.
Celebrating Ganesh Chaturthi the Mumbaikars' Way!
In the suburban areas like Andheri and Tilak Nagar replicas of Akshardham Temple were installed to fulfil the wishes of those who visited these places.  At the entrance of Andhericha Raja a fantastic sand sculpture of the Kerala Padmanabha Swamy temple was created at the entrance.
Mandals installed by the Gaud Saraswat Brahmin (GSB) community at Sion and Wadala have instead of utilizing gold jewellery, used unique concepts.  They celebrate the festival in a religious and traditional manner, with chants and mantras instead of playing loud Bollywood music.
The best festivities can be witnessed in South Mumbai where the Fort Vibhaag Sarvajanik Ganeshotsav Mandal is located, where multifarious images of palaces or temples are installed each year, such as the creation of Kedarnath Jyotirling at the ingress point, with the remaining eleven Jyotirlingas inside.
If one takes the concept of riches, the Andhericha Raja has been insured for Rs. 2.15 Crores, Lalbaugcha Raja for Rs. 14 Crores and GSB Seva Mandal of Sion for around Rs. 200 Crores!
Tejukaya, a small colony in the suburbs of Mumbai had chosen the theme of farmers' suicides by depicting a 22 foot Ganesh suspended in mid-air as a farmer soulfully beats the drum below the idol.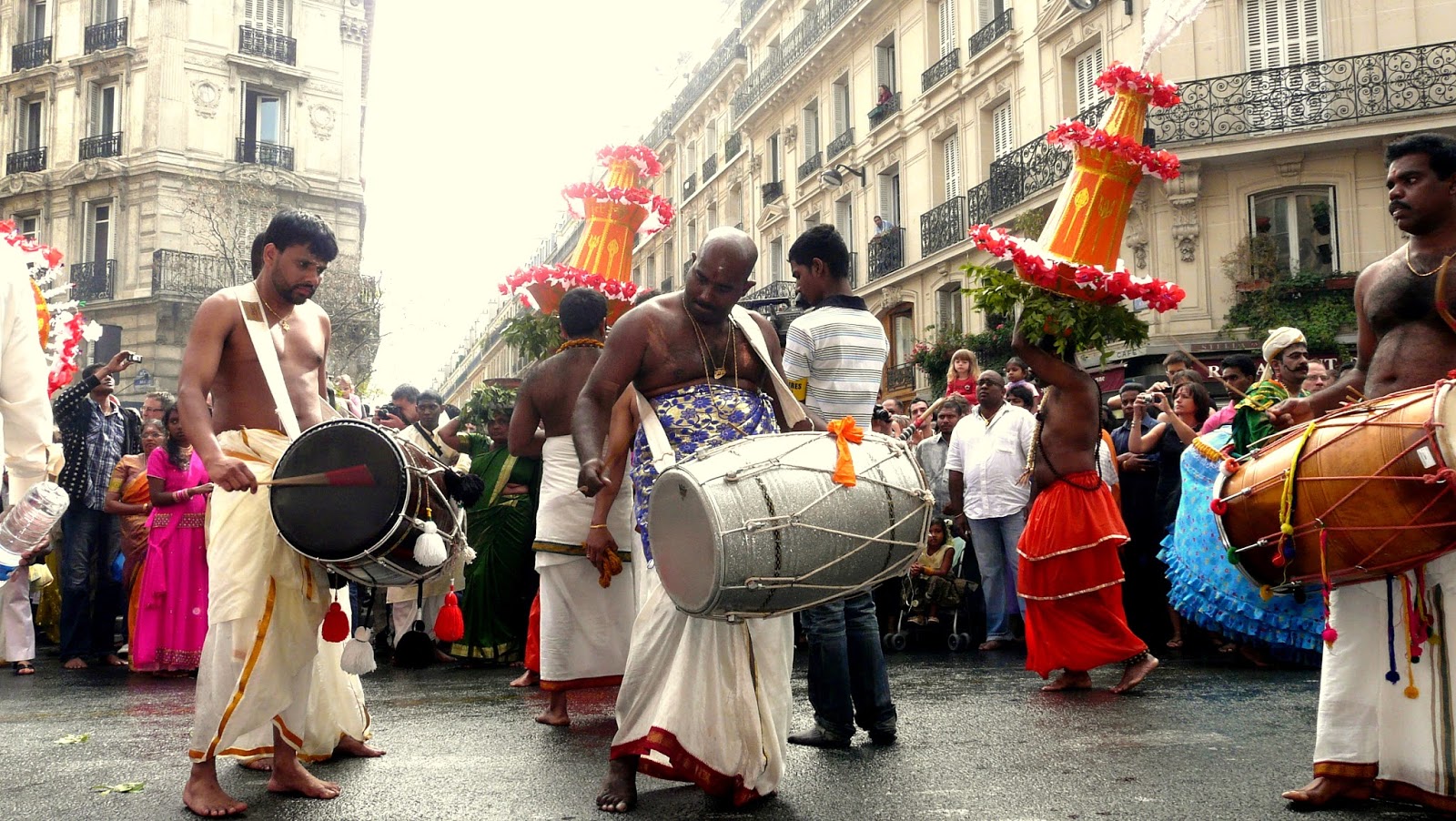 The celebration of the Lord Ganesh festival in Mumbai irrespective of caste, creed, community indicates the multi-faceted spirit of sharing, showcasing the beauty of the city's artistic traditions, the wondrous mode of street life and the glorious manner in which the Ganesh Festival is celebrated throughout Maharashtra, especially in the suburbs of Mumbai.
Authored By :   Maheenath Ananda
References
1.    http://www.speakingtree.in/blog/2600-ganesh-chaturthi-celebrations-in-mumbai-2013
2.    http://www.dnaindia.com/india/report-ganesh-chaturthi-2015-5-ganpati-mandals-in- mumbai-you- have-to- visit-2125972
3.    http://food.ndtv.com/food-drinks/ganesh- chaturthi-everything- you-wanted- to-know- about-its-significance- rituals-1218317
4.    http://goindia.about.com/od/festivalinformation/ss/Guide-To-Mumbai-Ganesh- Visarjan.htm