Here are some Durga Pujas in Bengaluru that are a must-visit – The Hindu
Pujo, dhaaki, bhog, dhunuchi nach, cultural evenings… These are some of the features associated with Durga Pujo. Since 1949, when the first Pujo was held in Bengaluru, Durga Pujo celebrations have emerged in various neighbourhoods, conducted by committed individuals, who despite their busy schedules never fail to make the traditional Pujo memorable. Durga Pujo goes beyond just being a traditional Pujo. It is a time when excitement is palpable. When people from all over India, particularly East India, look forward to celebrating one of the world's biggest festivals.
It is a time when conversations are dominated by pandal hopping and attending cultural events. Bengalis from Kolkata, who don't get leave to go home for Pujos, feel satisfied that at least they will attend some exciting Pujo in Bengaluru, the city they have made home. The enthusiasm of buying new clothes for the five days of Pujo and the coming together of communities makes Pujo even more special. There is a plethora of Pujos in Bengaluru, from the traditional Pujas to the more recent ones. MetroPlus profiles some of these and gets to know of all the activities to look forward to.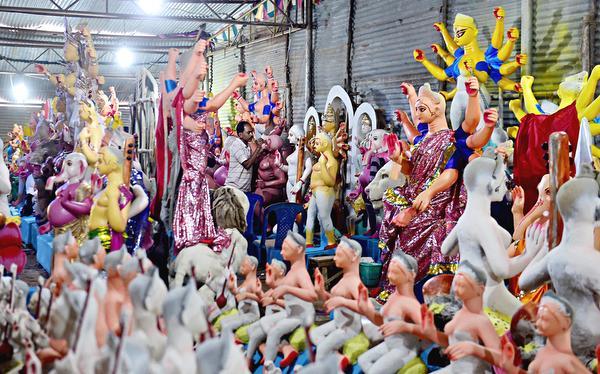 Bengalee Association
This is the most well-known Pujo, attracting crowds every year. This is the 67th year of the Pujo, which will be held at RBANMS grounds, Ulsoor. Robin P. Majumdar, general-secretary of Bengalee Association says, "On October 6, there will be a children's talent show and an Ananda Mela, where women will make and sell various food items." On the evening of October 6, the Pujo will be inaugurated. Over the course of the Pujo, there will be various cultural evenings, one of which will feature well-known singer, Anwesha Dutta Gupta.
Sarathi Socio Cultural Trust
The Pujo will be held at Mangala Kalyana Mantapa, 6th Block. Sudipto Das, general secretary of Sarathi Socio Cultural Trust says:
"This is the 14th year of the Pujo. The cultural programme is spread across five days from October 6 to 10 known as Sammad.
On October 6, there will be contemporary and retro music by the band Kohal. On October 7, the Pujo will be inaugurated by Panduranga Setty, Chairman of RV Groups of Institutions. On October 8, there will be a cultural evening by Sa Re Ga Ma artistes. On October 9, there will be a performance by Anwesha and a Bollywood theme based song-n-dance show: Jhankar Beats. And on October 10, there will be surprise event featuring a Bollywood attraction. "Apart from that we'll be having various competitive events for the youth like Bandimonium – a band competition, Antakshari, Boogey Woogey etc. in the afternoons from October 8 to 10," adds Sudipto.
Bannerghatta Durga Foundation
This Pujo is known for staying true to the traditional, age-old customs of Pujo. This year, apart from special cultural evenings, there will also be socially relevant events. "A-not-for-profit foundation, organises the Bannerghatta Durga Pujo every year based on voluntary donations and sponsors, in a grand fashion," writes Priya Mukherjee, the president. This year's venue is Sri Srinivasa Kalyana Mandapa, off Bannerghatta road, behind IIM Bangalore, Bilekahalli, and the Pujo will be held from October 7 to 11.
The prominent attraction this year is a specially-designed Ma Durga Idol in 19th century heritage style. "Daily Pujo and related rituals will be performed by purohits invited from Bengal. Lavish bhog prasad (lunch) will be prepared by traditional chefs, specially brought from Bengal and served everyday to all visitors with separate arrangement in place for senior citizens," adds Priyanka. Dhaak will be played by a special team from Bengal.
"Some of our cultural programmes include kids drawing competition and talent show, agomoni songs on sasti, Bharatanatyam dance performance by Rao' s Academy of Dance and RJ Live Band playing Bengali songs on saptami, Shankha playing competition, Dhunuchi naach, fusion dance by Nandana group on ashtami, performances by renowned dancers such as Karishma Iyer, recitations, traditional fashion show on navami." She adds that on navami, they will conduct a woman and child health awareness session by reputed mother and child health specialist, Dr Payel Biswas Soo.
We have a totally inclusive approach in holding the Bannerghatta Durga Pujo, where we bring a part of Bengal to Bengaluru and integrate with the local culture and let people enjoy and participate in the traditions and rituals" says Sonjib Mukharjee, the Founder Trustee. "True to this sentiment, the Bannerghatta Durga Pujo does not have any membership or any fees of any sort and welcomes everyone to participate in the Pujo and bhog prasad."
Utsav, J.P. Nagar, 3rd Phase
This is the fifth year of this Pujo. They strive to bring together all communities together, making Durga Pujo a truly cosmopolitan event. The Pujo will be held at Shree Kala Mantap, #70, 15th Cross Road, J.P. Nagar, 3rd phase. "The Festival will commence from the dawn of September 30-Mahalaya Amavasya day with prabhat-pheri and agomoni songs," says Somenath Nag, Vice-President.
The cultural evenings will start with a dance drama on Ram's Swayamvar Sabha on shashti. On October 8, Kharaj Mukherjee, Bengali film artiste, entertainer and singer, will perform. On ashtami, Manisha and Manoj Murali Nair will perform Rabindra Sangeet. On October 10, a play Romyaon will be performed.