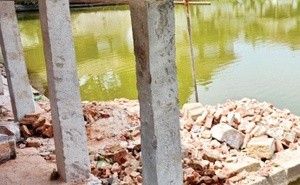 The demolition of an old stone 'mandapam' next to the Padmatheertham pond at the Sree Padmanabha Swamy Temple sparked a row on Friday. Devotees and Hindu organisations staged a protest at the site. The mandapam was one of nine on the banks of the pond.
It was also the only one with a stone roof. While the protestors alleged that the Archaeology Department was not consulted before demolishing the ancient structure, officials in charge of the renovation of the pond said the controversy was sparked by a misunderstanding. The latter said the structure was dismantled as part of renovation works and would be reconstructed using the same stone blocks. With protests mounting, District Collector Biju Prabhakar has called a meeting at 3 pm on Saturday to clarify the situation.
The Shiv Sena alleged that the pavilion was demolished without informing the Archaeology Department or other experts. "This is a very old 'Kalmandapam' and has archaeological value. A JCB was used to pull it down. Also, it is the only one among the nine here that is fully made of stone. The rest have tiled roofs," Shiv Sena district president Peringamala Aji said.
Members of the erstwhile Travancore royal family also visited the spot.
The Kerala State Nirmithi Kendra, on the other hand, said the controversy was the result of a misunderstanding. The entire stretch from the cloak room end to the main steps of the temple is undergoing renovation, and the structure was dismantled since it was in a weak condition. The same blocks would be used in the restoration process, a Nirmithi official said.
Devaswom Minister V S Sivakumar had launched the renovation works at the Padmatheertham pond on September 25. In the first phase, works to the tune of Rs 1.64 crore will be undertaken. They include renovation of the bathing ghats for male and female devotees, modernisation of the cloak room and construction of a queue complex. The second phase includes renovation of the stone 'mandapams' and pavements bordering the pond.