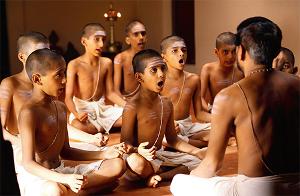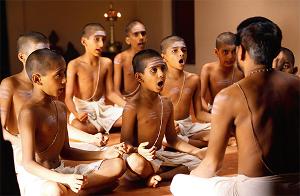 ​Modi regime to work on bottom-to-top approach in an effort to 'sophisticate existing instructional system'Academicians may have called for an urgent revamp of the ailing school education system, but the Ministry of Human Resource Development (MHRD) seems to have its own agenda. An MHRD-panel report has now recommended revival of 'ancient Veda vidya' and Vedic pathashalas and gurukulas, and giving legal recognition to exams conducted by them at par with CBSE and other modern systems of education.
"The committee is of the opinion that the primary level of Vedic and Sanskrit studies should be inspiring, motivating and joyful. With regard to Sanskrit pathashalas, it is desirable to give greater importance to the use of Sanskrit more and more in order to eventually evolve Sanskrit as the medium of instruction in the coming years. With regard to Veda pathashalas, it is felt that they need further standardisation of recitation skills along with introduction of graded material of Sanskrit and modern subjects, so that students can ultimately reach the point of studying Veda bhashyas. Due emphasis may also be given for the study of Vikriti Patha of Vedas at an appropriate level.
The committee took note of various forms of gurukulas. It is felt that, in all these gurukulas, content of modern subjects should also be introduced in a balanced way," says the report on the development of Sanskrit in India.
The report further says, "The committee observes that the examinations conducted by these institutions should have legally valid recognition enjoying parity with modern system of education like CBSE. Further it is emphasised that these institutions be provided with substantial financial support not only for teacher's salary and scholarship for students, but also for infrastructure and library development."
Accordingly, the committee has proposed that MHRD establish a Board of Examinations for standardisation, affiliation, recognition, authentication of the traditional forms of school-level education, which will lay proper foundation for the growth of traditional knowledge systems.
"Since Vedas and Sanskrit are inseparable and complementary to each other and since the recognition and affiliation problems are same for all the Veda pathashalas and Sanskrit pathashalas throughout the country, a Board may be constituted for both together. The Maharshi Sandipani Rashtriya Veda Vidya Pratishthan, Ujjain, may be given the status of Board of Examinations with the following name "Maharshi Sandipani Rashtriya Veda Sanskrita Vidya Parishat" (MSRVSVP), with headquarters in Ujjain, which will continue all programmes and activities that were being conducted hitherto in addition to being a Board of Examinations," it says. According to the report, there are about 5,000 traditional Sanskrit pathashalas at the school level and about 1,000 Veda pathashalas in the country.
The proposed Board will hold VIII, X and XII standard examinations and award certificates in all the streams of traditional school education. The proposed Board, according to the recommendations, will have a number of faculties for different forms of traditional knowledge systems, including "shabda parampara Veda pathashalas, artha parampara Veda pathashalas, Sanskrit pathashalas, shramana parampara pathashsalas and gurukulas."
Stating that "it is felt that the temple rituals and architecture are on the verge of extinction", the proposed MSRVSP, says the report, may take up this task and offer regular courses on this traditional knowledge system and also organise short-term training programmes.
In addition to supporting and developing the existing types of pathashalas, the panel has recommended that the proposed Board evolve new types of pathashalas such as pathashalas with Veda and Sanskrit as major subjects and modern subjects as minor, modern subjects as major and Veda or Sanskrit as minor and schools of general education courses through Sanskrit medium and evening schools of Veda or Sanskrit, which are the compelling and sustaining needs of Veda Sanskrit Education. "It is strongly felt that these steps would herald a new era in Veda Sanskrit education," it says.
Yet another key recommendation of the committee is to instruct CBSE, ICSE, NIOS, Kendriya Vidyalaya Sanghathan (KVS) and Navodaya Vidyalaya (NV) to strictly implement a "three language formula" till the last year of secondary education and two languages at the higher secondary level.
The report says NCERT should be asked to spell out within three months on the implementation of three language formula in secondary schools and two languages in higher secondary schools across all education boards. "NCERT may make a study of all Sanskrit textbooks of all states and prepare a list of common vocabulary used. Based on inputs from experts, a primary list of minimum standard vocabulary in Sanskrit for textbook writing may be drawn up. Sanskrit may be offered in all groups in class 11 and 12 in higher secondary schools," it suggests.
The report also proposes a Central Board of Sanskrit Secondary Education for conducting examinations, affiliating pathashalas and for giving grants, besides mooting model Sanskrit-medium schools in every state.
Linking 'scientific' info in Vedas
The report says facilities should be provided for research to students with the background of Vedic knowledge to equip them with sufficient grounding in scientific and analytical methodology, so that scientific information contained in the Vedas, particularly in disciplines like Mathematics, Astronomy, Meteorology, Chemistry, Hydraulics, etc could be linked with modern sciences and technology and a "rapport established between them and modern scholars". For this purpose, existing Veda Pathashalas and research institutions engaging in Vedic research will require to be supported, it says.
"Vedas are the treasure house of knowledge and regarded as the foremost ancient literature available on Earth. They are transmitted till now through oral tradition under Guru Shishya system of foolproof and time-tested method. It is our duty to preserve, conserve and develop the oral tradition of Vedic studies and for that various activities such as supporting traditional Vedic institutions and scholars, providing fellowships, undertaking production of audio and video tapes are needed. This system of oral transmission is to be protected and the tradition of intonation and recitation through the human agency must be preserved," it says.
Source: Bangalore Mirror