Pramukh Swami, the spiritual head of Bochasanwasi Akshar Purushottam Swaminarayan (BAPS) sect, was cremated at Swaminarayan temple in Sarangpur this evening with BJP chief Amit Shah, party patriarch L K Advani and Union Minister Arun Jaitley attending the last rites.
The cremation were held as per Vedic rituals in an open ground on the premises of the temple in the presence of thousands of devotees and a number of dignitaries.
Saints and devotees bid their final adieu to him with tears amid chants and prayers. The 95-year-old spiritual head had died on August 13 at the Sarangpur temple where he had been residing since the last few years. He had not been keeping well since long due to age-related problems and was being treated at the temple which is around 150 km from here.
Swami's mortal remains were kept at the temple till this morning to enable devotees and citizens to have a final glimpse. Reportedly over 20 lakh devotees of the Swaminarayan sect from across the globe visited the temple to pay tributes. Shah, Jaitley, Advani and Railway Minister Suresh Prabhu were among the dignitaries who paid their last respects to the departed soul. Shah said it will be impossible to fill the vacuum created by Swami's death. "Since I was born and brought up in Gujarat, I was a witness to Swami's influence on the lives of people of not only Gujarat but also of the country. He did a commendable job of pursuing people to give up smoking and other addictions. I believe that it will be impossible to fill up the void created by his death," Shah said.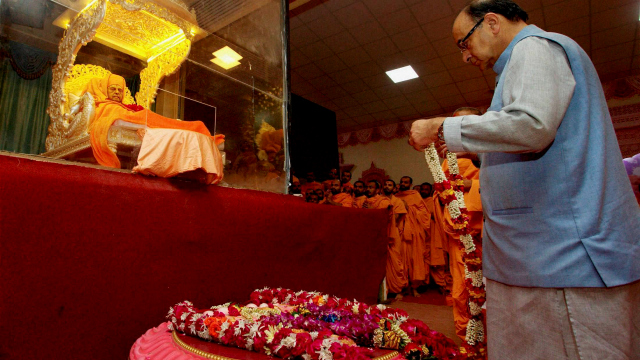 Arun Jaitley paying last respects (PTI)
In his condolence message, Jaitley praised Swami for motivating millions to walk the path of 'dharma'. "For a very long period, Swami persuaded millions of people across the globe to walk the path of religion and sacrifice. He was having the power to motivate people to work for the betterment of the society. I believe that he is irreplaceable," the Finance Minister said. Advani told reporters that Swami became a medium of spreading India's best practices in the world. "There are very few persons who have managed to spread India's best practices in the world. Pramukh Swami did this through his sect. I came here once again to pay my final respects," Advani added.
Other dignitaries who paid their tributes today include Congress president Sonia Gandhi's political secretary Ahmed Patel, Gujarat Congress chief Bharatsinh Solanki, Samajwadi Party leader Amar Singh, industrialist Anil Ambani, Yoga Guru Baba Ramdev and spiritual leader Morari Bapu. Prominent personalities who visited Sarangpur to pay their last respect to Swami include Prime Minister Narendra Modi, Delhi Chief Minister Arvind Kejriwal, Gujarat Chief Minister Vijay Rupani and former Gujarat Chief Minister Anandiben Patel.