Kali Puja was celebrated in West Bengal with pomp and religious fervour amid tight security a day ahead of Diwali. A large number of devotees visited Kalighat, Dakshineswar and Adyapeeth Kali temples in and around the city to offer prayers to the goddess on the auspicious day. Devotees had to stand in long queues at the Tarapith temple in Birbhum district to offer puja. Among other places, Kali puja was also held at Thanthania Kali Temple in North Kolkata, Lake Kali Temple in South Kolkata and Firinghee Kali Temple in Central Kolkata.
Like previous years, Kali puja was also held at the residence of West Bengal Chief Minister Mamata Banerjee. Many important personalities, officials and other dignitaries attended the Kali puja and met the Chief Minister to exchange greetings.
Stating that the festivals display colours of humanity, culture and civilisation, Banerjee in a message earlier had urged all to maintain communal harmony especially during the festive days of Diwali and Kali puja.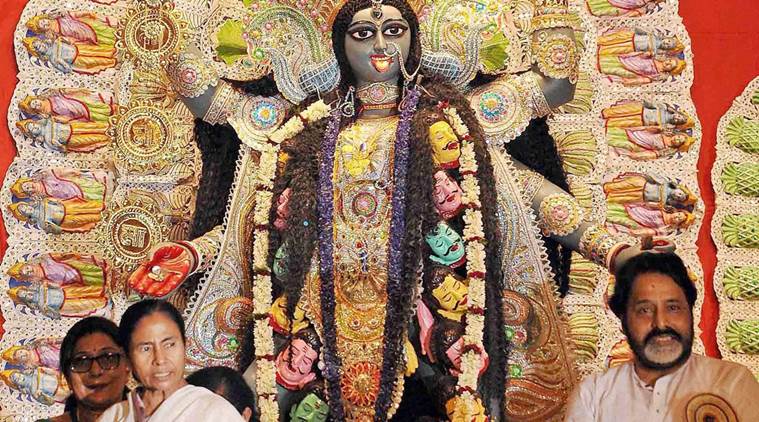 Kolkata: West Bengal Chief Minister Mamata Banerjee at the inauguration of Goddess Kali Puja at a community puja pandal in Kolkata on Wednesday evening. (Source: PTI Photo)
Many community pujas at Barasat and Naihati in North 24-Parganas district were major attraction among people.
West Bengal Fire Services Minister and City Mayor Sovan Chatterjee told media that all arrangements have been made by his department to prevent any untoward incident during the festival. "So far the celebration is peaceful and without any incident," Chatterjee said.