Challenging all threats, ignoring all fear, Bangladeshi Hindus- one of the most threatened people in the world now, after bracing a series of brutal attacks against them – have actually thrown an open challenge to ISIS Terrorists, when in spite of ISIS threat against observing their 'kafir' festivals, have actually done the same and this time, in record numbers! This year's Hindu Almighty Lord Krishna's Jagannath Avatar's 'puja' and chariot celebrations witnessed a participation of no less than 16,00,000 Hindus throughout Bangladesh including Dhaka, Chittagong, Jessore, Myemensingh, Ghazipur, Sylhet, Bagerhat and elsewhere.
In another related news, the Bengali Hindu's closest alliance- the Indian state of Hindu Majority West Bengal, on other side of the border witnessed an unfortunate incident of smashing up of the same Rath Chariots, following a brazen attack by some muslim groups owing to certain religious clash and land disputes. The incident took place at Ramganj , Islampur PS, District Uttar Dinajpur, in the Indian state of West Bengal. Protesting against the regular atrocities of the Muslims and also muteness of the police the local Hindus are blocking NH 31 at Madaripur (Dalkhola to Assam). Situation is very tense and RAF has been deployed. Hindus are Minority in this district.
"Every man must die- Bhagwad Geeta teaches us to make our life a worth living and never surrender or compromise with Injustice. We are born free men and women, and there is no one who can stop us from practising our faith of Hinduism- that states as all streams meets same sea, all paths of salvation eventually meets the same Almighty" said an old man during the Chariot Procession organized by  International Society for Krishna Consciousness ISKCON starting from ISKCON Dhaka Krishna Temple to Bangladesh's National Hindu Temple- The Dhakeshwari Temple.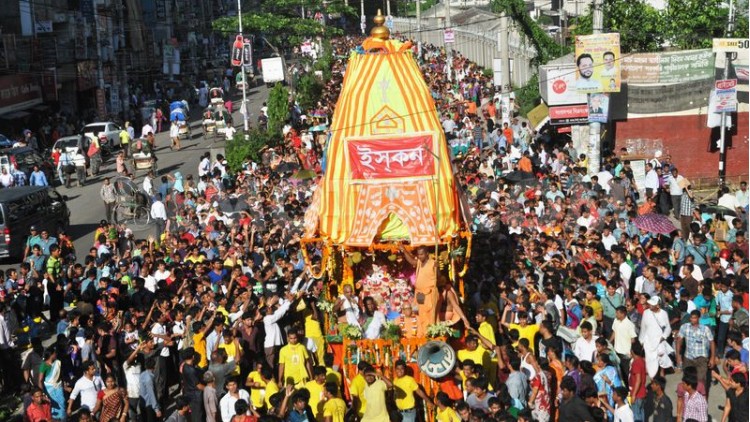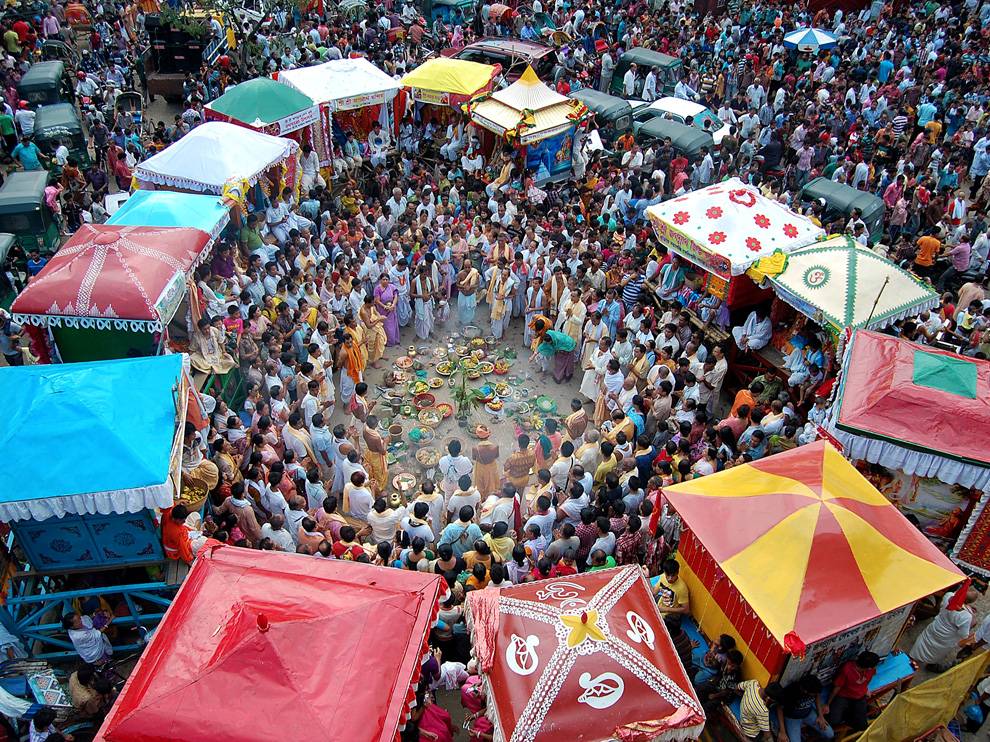 A controversial picture surfacing showing Indian Bengal's Chief Minister Mamta Banerjee, participating in the sacred chariot festival with her slippers on- against the customary and religious belief. Hindus take off their shoes before performing any religious ritual.
Hinduism- as a religion believes in a single almighty with various avatars of it- who, are said to take various forms of all living beings in this planet- maybe of an animal, or a spirit, which as the sacred texts goes, comes to this world to show the various roles of all creatures in this world. Jagannatha- the avatar of Vishnu is worshipped during this Rath(Chariot) Yatra(Journey) festival with much pomp and show among the Hindus around the world. Notable ratha yatras include the Ratha Yatra of Puri, Odhisa India-  the Dhamrai Ratha Yatra Bangladesh and the Ratha Yatra of Mahesh, West Bengal, India. The festival originated in Puri, Odisha.
Source: 16 Lakh Bdeshi Hindus challenged ISIS-celebrated Rath; while Rath smashed in India at Eid Clash