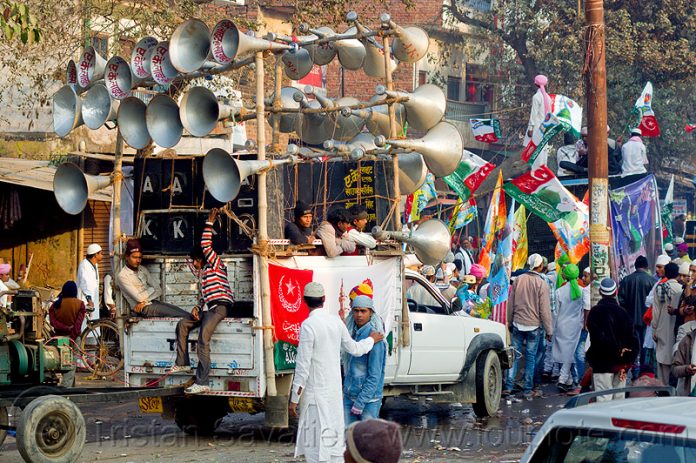 Mumbai: Decibels rose eight per cent on an average on Monday on the occasion of Id-e-Milad. NGO Awaaz Foundation which is against noise pollution in its report said that noise pollution increased from 103.5 dB to 111.5 dB this year.
The report further said that maximum noise levels were seen opposite the additional commissioner of police office at Byculla and opposite J.J. Hospital. While there were also several silent processions without loudspeakers and people seen holding banners to reduce noise pollution owing to government orders and active awareness campaigns, decibel levels of processions with loudspeakers were very high. Despite being a silent zone, J.J. Hospital recorded the highest noise levels i.e. 111.5 dB due to processions being held diagonally opposite the hospital and Byculla Bridge. Last year, the area had recorded noise levels of 103.5 dB. Interestingly, there was heavy police presence at all sites of processions. Comparatively, other festivals such as Ganpati and Diwali saw a drop in noise pollution. For instance, noise levels during Ganpati at Girgaon Chowpatty dropped to 116.4 db this year from 123.7dB last year. Similarly, Diwali saw noise levels dipping from 123 dB last year at Marine Drive to 113.5 dB this year.
However, Id-e-Milad saw an increase in noise pollution levels despite best efforts of the department.
Speaking of reduction in noise levels during other festivals this year, Sumaira Abdul Ali, convenor, Awaaz Foundation, said,  "Mumbaikars have made major change in the way they celebrate festivals from their own understanding and action against the adverse health effects of noise pollution."